Case Study: Scottish Apples - reviving a lost heritage - Catherine Drummond-Herdman

Case Study: Scottish Apples - reviving a lost heritage - Catherine Drummond-Herdman
Nestled between Perth and Dundee, Megginch Castle has a long tradition of apple and pear production. After a period of neglect, in 2005 Catherine Drummond-Herdman took over the orchard and today there are 1,400 trees, representing over 800 varieties.  
'It's very important to have special varieties, partly because if you're selling them you can get a premium; but mostly to keep the genetic variety. You never know when something is going to be useful, for example in the fight against disease'. 
A history of apple growing
Perthshire was once a thriving apple producing region, exporting via the Tay across the country. Catherine's family has been in Megginch Castle since the 1660, so were part of this long tradition:  
'Apple growing gradually died out with mechanisation first, then with cheaper imports. The final nail in the coffin was joining the EU where everything had to be regular. In Scotland we have so many different varieties'.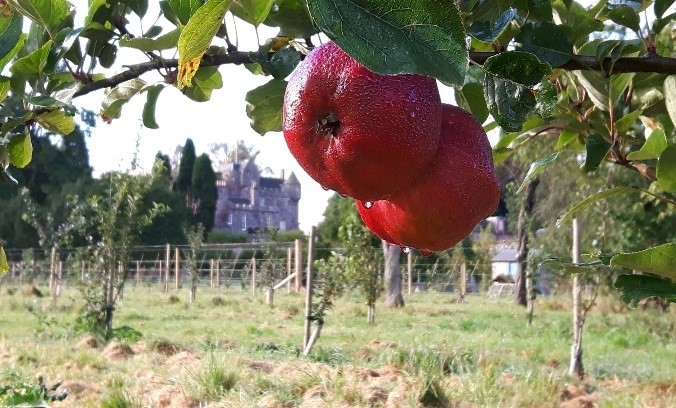 The

orcha

r

d

's

300 year

history
Catherine describes the castle's 5-acre orchard as 'a smallholding with a large house'.  
'Since we took over in 2005, we've planted some 1,300 trees (up from the original 90). The current orchard is called the New Orchard, though it was planted in the 1700s.  We have a clay soil, and there is a bit of loam that comes from the orchard so there is really good growing.' 
Recovering the orchard has been a long process: 'First, we had a small grant from the SRDP, just enough to deer fence and rabbit-proof the orchard. We fenced it and planted 20 or 30 trees, but I just didn't think they were enough, and I kept going.  
'Then I came across the amazing Henry May, a cider orchard-owner from Herefordshire looking for a place to house his collection. We had to move quickly because he was moving out of the country. All the rootstocks had been sold and we ended up with 'M26' for all of the fruit. At that time, I didn't know much about rootstocks and how important they are, so we grafted onto this rootstock and from 384 cider apple varieties and we got over 880 trees!' 
A national resource
Today, the orchard hosts a national collection of trees, for both cider and Scottish apples, and for pears. This makes it a unique repository for species, valuable to growers and researchers alike. Catherine  has been involved in a Rural Innovation Support Service (RISS) project bringing together growers to re-establish a Scottish commercial apple sector, establishing Scottish Apple Producers (SAP).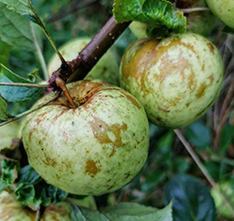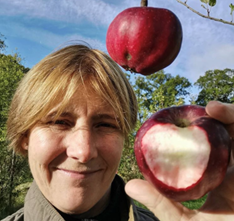 Advice for fruit growers
1. M

ake sure you have the right varieties
'It was only by growing so many varieties that I fully understood how important it was to get the right one for your area. So while some of the ones we have don't grow very well here, they would do well in a different region'.  
2. C

hoose good rootstock
3. P

amper your soils
'You can't grow anything if you don't know your soil and understand what is happening on the ground, including the mycorrhizal networks. I feel now that I feed the soil as opposed to feeding the trees. I mulch up really hard; and use a variety of things, from horse hair (embedded in some old plaster from one of the bedrooms!) to sheep fleeces.' 
An industry making a comeback
'Apples can be profitable, and you have the wood as well as the fruit. You can also plant them in amongst an agricultural system, like Roger Howison has done at Parkhill. Scottish apple varieties are definitely also something you can consider for agroforestry.' 
---
Find out more
Agroforestry resources for farmers
---

Funding is being made available through the Knowledge Transfer and Innovation Fund (KTIF), which is funded by the Scottish Government; and Scottish Forestry