New FM must regain spirit of COP26
Humza Yousaf was sworn in this week as only the sixth First Minister since the Scottish Parliament was re-established in 1999. The 37-year-old is the youngest to hold the post, and the first Muslim, but he faces multiple challenges after a fractious leadership campaign.
It was a narrow margin of victory, as Mr Yousaf defeated his nearest challenger Kate Forbes by just 52%–48%. That means his primary task will be to bring together a divided party, with disagreements over economic and social policy exposed by a bruising contest.
In his victory speech after the votes were counted at Murrayfield Stadium in Edinburgh, Mr Yousaf set out his key priorities – addressing the cost of living crisis, reforming the NHS, taking action on equalities, extending childcare and achieving Scottish independence.
However, there was no mention of the climate and nature emergencies, nor of food and farming, in any of the reports from the event.
That reflected the broader campaign, with multiple televised debates and regional hustings events around the country dominated by other issues.
Climate leadership
It is a little over two years since Glasgow played host to the UN Climate Change Conference of the Parties, or COP26 for short.
The world's eyes were on Scotland, and then First Minister Nicola Sturgeon took every opportunity to burnish the Scottish Government's green credentials, with a series of media announcements and photo opportunities.
Scotland was to lead the way on climate, Ms Sturgeon said, with ambitious net zero and nature restoration targets, while shining a light on the need for climate reparations to countries already affected by global warming.
It would be fair to say that some of that momentum since COP26 has been lost, with other issues – most notably the cost-of-living crisis – commanding the attention of policy makers and media alike.
But the twin environmental crises of nature loss and climate change have not gone away, and Scotland is not immune – with more than one in ten species at risk of national extinction.
'Urgent' warning from IPCC
The latest Intergovernmental Panel for Climate Change (IPCC) report issued earlier this month made clear that urgent action is needed on all fronts. UN Secretary General Antonia Guterres said that meant "everything, everywhere, all at once".
That call was echoed by the SNP's junior partners in government the Scottish Greens at their Spring conference in Clydebank last weekend.
Co-leaders Patrick Harvie and Lorna Slater have since confirmed that the Bute House Agreement, the co-operation deal between the Greens and the SNP Scottish Government, will continue.
That agreement included a commitment to introducing a Natural Environment Bill with legally binding targets for nature restoration, embedding nature networks into the new National Planning Framework, 'at least' doubling land under organic management by 2026, developing an Organic Action Plan and delivering a vision and strategy for sustainable aquaculture.
That is all in addition to existing government commitments to introduce an Agriculture Bill (expected after the summer recess), a Community Wealth Building Bill, a Climate Change Plan update and a National Good Food Plan.
All of these pieces of legislation and policy can help to deliver on the Scottish Government's ambition to reach net zero by 2045 as well as meeting interim emissions reductions targets from sectors including agriculture (31% by 2032 from 2019 levels).
Need for urgency
However, at the present rate of progress, those targets are going to be very challenging to meet.
Our new First Minister must build on the commitments that the Scottish Government has already on addressing the climate and nature crises.
That means shifting from policy commitments to policy implementation.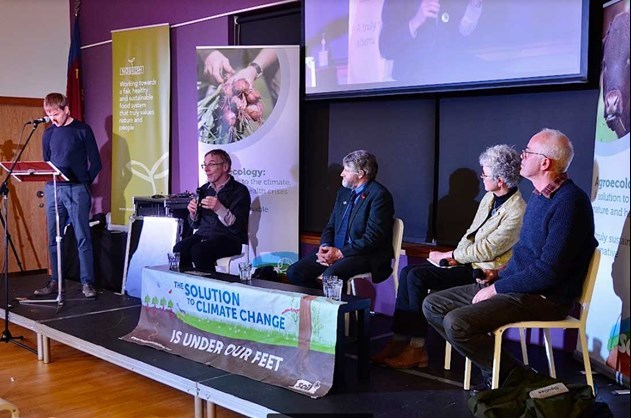 David McKay (Soil Association), Pete Ritchie (Nourish Scotland), Martin Kennedy (NFUS), Denise Walton (Peelham Farm), Andrew Barbour (Mains of Fincastle) at COP26, November 2021
At the COP26 summit in November 2021, there was a real sense of urgency and clarity of purpose amongst those in attendance.
Mr Yousaf should channel that spirit as he takes up his new role. It is time to deliver on the promises made for Scotland to be a Good Food Nation, to produce high quality food while tackling climate change, and to restore nature and biodiversity.