Kale Chickpea and Butternut Squash Curry
Butternut squash season in the UK stretches from September to December.
If you're looking to reduce the carbon footprint, it's worth knowing that outside of this season, squash is often imported from areas as far away as South Africa, Argentina & Israel
Pay close attention to the label before you buy, to make sure yours is UK-grown and organic!
Kale, chickpeas and butternut squash come together beautifully with a homemade curry paste for a replenishing & tasty dinner autumnal warmer.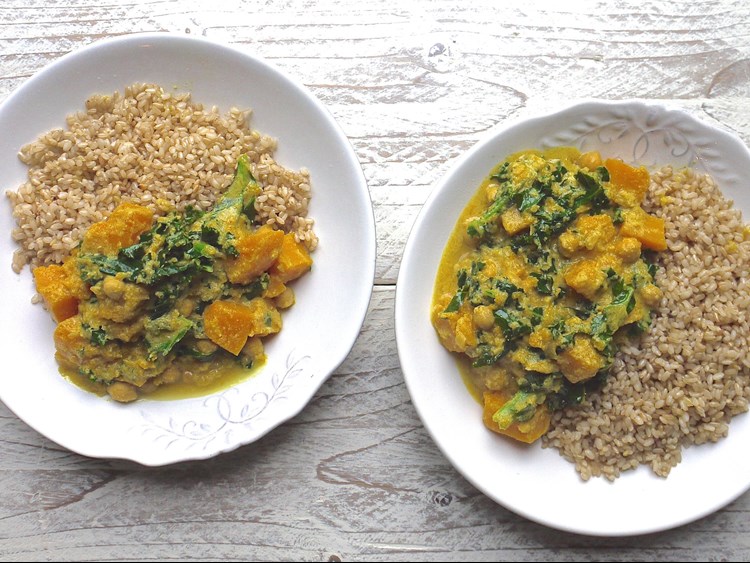 Ingredients (Serves 4)
200g of short grain brown rice
1 lemon
1 butternut squash
100g of kale
1x400g tin of chick peas (or 240g of cooked chick peas)
200g packet of creamed coconut
800ml of boiling water
chilli flakes
For the paste
1 lime
1 shallot
1 inch thumb of fresh ginger
4 cloves of garlic
1 teaspoon of turmeric
1 teaspoon of cumin
⅛ teaspoon of ground nutmeg
½ teaspoon of cinnamon
⅛ teaspoon of cardamom
4 tablespoons of tamari
¼ tablespoon of ground black pepper
Method 
First, put the rice on to cook according to instructions. This should take about 20-30 minutes.
Then begin by making the curry paste. Finely chop the shallot, ginger and garlic cloves and juice the lime, and place in a blender with all the other ingredients. Blend until a paste forms.
Dissolve the creamed coconut in 800ml of boiling water to make coconut milk. It may be easiest to cut it up finely first. While it dissolves, chop the butternut squash into bite-size pieces.
Add the curry paste and coconut milk to a large saucepan and stir thoroughly, bringing it to a boil. Then add the butternut squash and chickpeas and cover with a lid, turning the heat down and allowing it to simmer for about 10-15 minutes until the squash starts to soften.
Juice the lemon and add this and the kale to saucepan, allowing the kale to wilt. Once the squash is soft, it is ready to serve, adding a sprinkle of chilli flakes to taste.