Easy 'Veg Drawer' Tomato Salad
A simple side salad is a great way to make use of all the odds and ends you find in the bottom of your fridge's veg drawer.
This makes it a great way to reduce food waste, and an easy fix to freshen up a weeknight meal when food supplies are running a little low!
This recipe comes from The Tomato Stall, who grow fresh organic tomatoes at their farm on the Isle of Wight.
They've spiced the salad up with some handy store cupboard ingredients, a little mustard, yoghurt and mayonnaise - to serve four as a side dish.
Preparation time: 10 minutes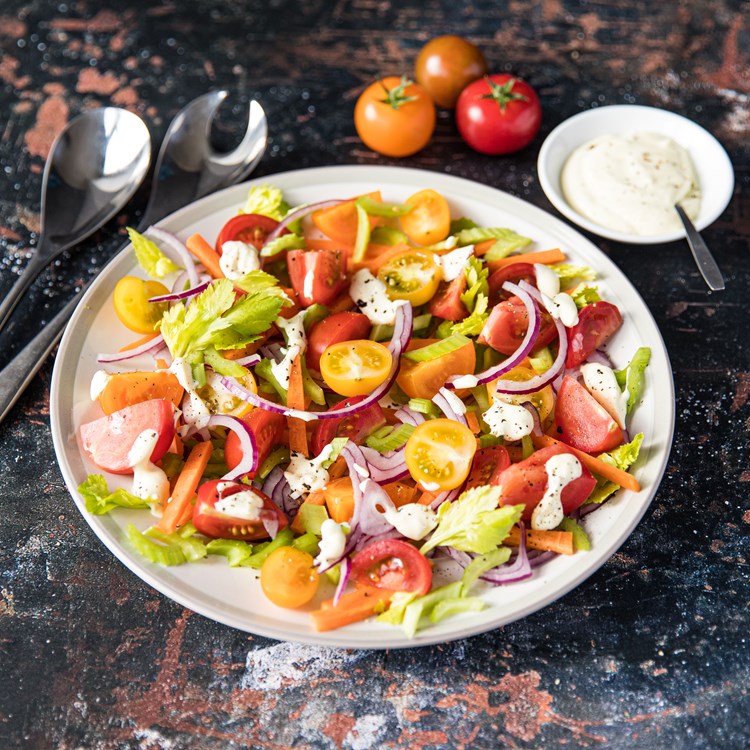 Ingredients:
300g Organic Isle of Wight Tomatoes, cut into bite size pieces
100g carrots cut into batons
100g celery, sliced
Half a small red onion, cut into crescent shapes
2 tbsp mayonnaise
2 tbsp yoghurt
1 tsp, English mustard
Salt and pepper
Method:
In a large bowl, combine the tomatoes with all the other vegetables.
Then, in a smaller bowl, mix the dressing ingredients and either toss through the salad, or drizzle over and serve the remainder of the side.