Out In The Field: Hunting Leatherjackets
I've been out in the fields again, this time on the hunt for leatherjackets. And no, I'm not having a motor-biking midlife crisis: leatherjackets are a particularly pesky grub. They're the larvae of the cranefly - more commonly known as daddy longlegs – and they can devastate grassland and cause huge issues for farmers, eating grass and young cereal crops.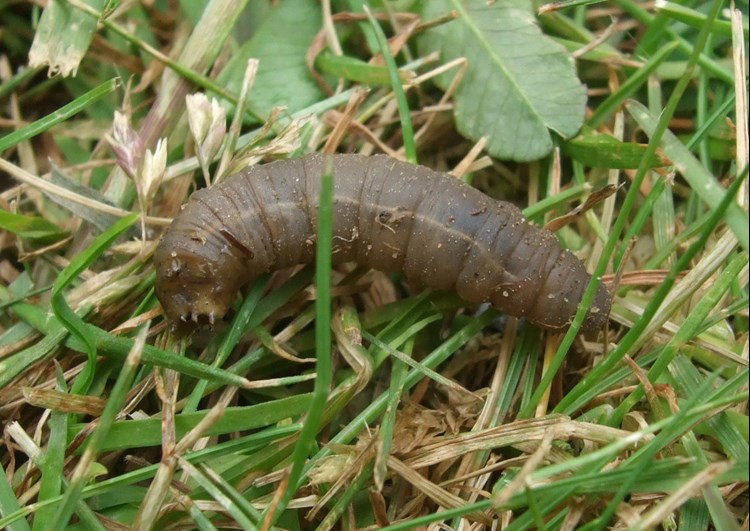 Since the pesticide most commonly used to control leatherjackets has recently been banned, finding alternatives has become an issue for all farmers, not just those farming organically. Here at Soil Association Scotland we've set up a field lab (an on-farm research trial, as part of our Future Farming Scotland and Innovative Farmers programmes) to look into alternative methods for controlling leatherjackets and find out what really works.
That's why I was out at a dairy farm near Whithorn in Dumfries and Galloway earlier this week. Along with project researcher Hannah Dykes, I was taking samples from two sides of a field, so we could analyse how many leatherjackets were present, before treating one half with a garlic-based spray (suitable for organic farms), and leaving the other half untreated. In the spring we'll return and do the same, so we can see if the spray has made any difference to the number of leatherjackets.
Counting leatherjackets...
Sampling is actually quite a straightforward business. We walked diagonally across the field and used a metal tool to take 25 'cores' (cylindrical samples) from each half of the field. Then we labelled them and took them to a lab – where each sample was placed over a container and heated from above, causing any leatherjackets in the sample to wriggle down and fall into the container, so they could be counted and the numbers reported back to us.
I was pretty shocked to find out that the results showed there were around 200 per square metre - so an estimated 11.5 million leatherjackets across the whole field of 6.5 hectares!
I'm intrigued to see if the garlic treatment will make a difference to the number of these leatherjackets that survive the winter. If it doesn't, farmers here in Scotland and across the UK could be struggling to find viable alternatives – those we've found have been hugely expensive and others simply won't work at cold temperatures. And as we're hearing that there have been very high numbers of craneflies across parts of Scotland this year, there's a good chance that all the many eggs they've laid will hatch, and the emerged leatherjackets will start to munch on grassland and crops across the next few months.
Fancy having a go?
If anyone else wants to have a go at controlling leatherjackets, why not run a trial yourself?  If you have a field that is at high risk of leatherjacket infestation (tussocky grass in the back-end) then why not spray half of it with a garlic treatment and see if it makes a difference?  And don't forget to tell us how you get on!  If you want to have a go at this then contact me, David Michie, on 0131 666 2474 or at dmichie@soilassociation.org.
-
Get your grassland management right for 2017
It was a great day out on the farm, particularly as the weather was mild enough to mean the livestock were still out and about.  Winter is coming though – and while it can feel like the grass season is at an end, it's never really over. Now's the time to think about how you'll be managing your pastures across 2017, and if you're in Scotland, we've got just the thing for you: our Grass Matters conference in Dingwall on 2 December. We'll be taking a practical look at how to get them most from your grass – with experts from across the UK. Places are free for farmers and land managers, so book fast!