Big News For Farmer-Led Innovation
Who knows farming better than farmers?
It seems like a question with an obvious answer. Farmers are the ones looking after their land and animals, starting the day at 4am with milking wake-up calls, and putting in the hours behind the tractor wheel. With a changing climate, fluctuating prices, and weeds and diseases to tackle, farmers face plenty of challenges.
It makes sense that the people who know farming best should also be the ones testing new ideas to meet farming's challenges. Safe, healthy, sustainable food is so important to us all and farmers are responsible for producing it. Surely we should be investing in supporting them to try out their ideas, so that everyone can benefit?
But this isn't what is happening. The UK spends £450 million each year on agricultural research and innovation, but as little as 1% of this money currently goes to practical projects led by farmers. Thousands of farmers are trialling, but they're often going it alone. Meanwhile, much of the UK's investment is funding the development of large-scale technology and inputs, which then get sold back to farmers at a profit as well as blue sky research which is well away from the farming coal face.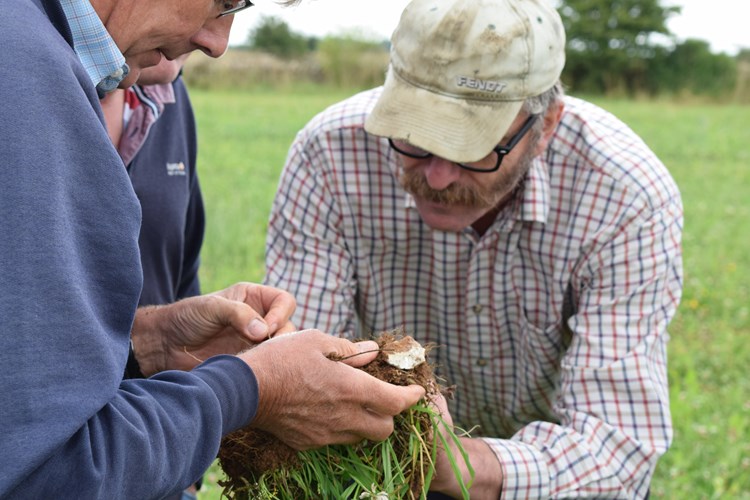 Supporting farmer-led innovation
We launched the Innovative Farmers network to support farmer-led innovation. The network is open to all farmers, regardless of the system they operate. The aim is to find ways of farming which are sustainable both for the farmers' businesses and for the land. Groups of farmers work together on a common challenge. Their ideas shape the trial, and they're matched with a researcher from a top agricultural university to help them get the best from their trials. Then we share their findings, so that their findings can benefit the whole industry.
So far, more than 750 farmers have taken part in practical 'field labs', on topics that range from soil health, to crop weed and disease control, to livestock health. Of those involved, 90% said they learned from the field labs and more than half have made changes to the way they farm as a result of being in a field lab.
What difference does a field lab make?
Innovative farmer, Nick Freeth is now involved in his third field lab. In this short film he explains what it's done for his business.
And now, farmers can join the network. For free!
Today, we're announcing big changes to the way the network is set up. Before now, members were asked for a £240 membership fee to be part of the growing network, but from today they can access the field lab documents and attend events for free. We'll only ask people to chip in when they start getting involved in field labs, to help cover costs.
Great news for farmers, and great news for the future of farming.