Plastic Free Periods With Natracare
The hashtag #PlasticFreePeriods is trending on social, but what does it all mean? Why do our period care products contain bleach and plastic? Why should people care?
It is estimated that the average woman will use up to 11,000 disposable menstrual products during her lifetime. Many of these products contain Dioxine and bleach as well as unnecessary packaging - causing disruption to our health and the planet.
Natracare are pioneers of organic cotton period products for over 20 years. They unwrap the dirty truth behind our period products and to break the cycle of misinformation and confusion.
2018 Saw Natracare's involvment in Organic Beauty & Wellbeing Week campaign. Why was creating the campaign video important to you?
We have always been passionate about supporting organic principles. We wanted to show how we apply these principles and practices to achieve the highest ethical standards and how we are transparent in everything we do. This is something we have prided ourselves on for almost 30 years.
The 2018 Organic Beauty & Wellbeing Week 'What I'm Made Of' campaign encompasses transparency, honesty and integrity. It is the perfect way to show the world our values and shine a light on what it means to be a part of the organic family.
Greenwashing in personal care and the lack of ingredient disclosure of menstrual products means that it's important for us to support the Soil Association in its efforts to clarify these issues for consumers. We've been partnered for so long and want to celebrate their efforts to show what it means to be organic and ethical.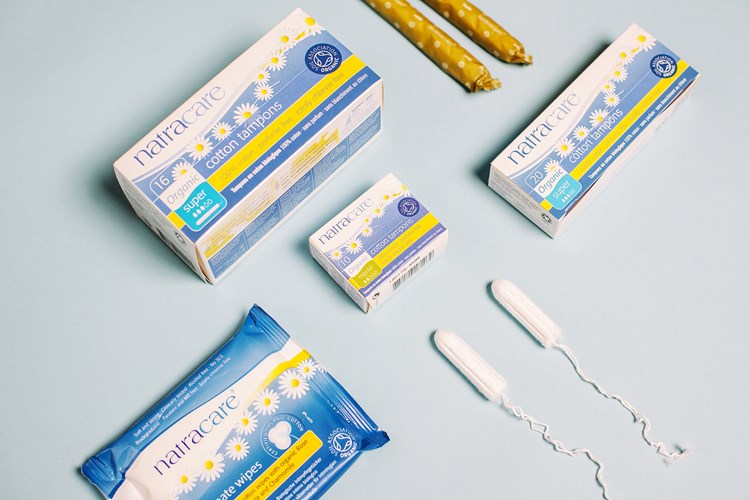 We had lots of questions around Viscose, can you tell our readers what Viscose is?
Viscose is a man-made fibre derived from cellulose dissolving pulp. Its raw materials are diverse, e.g. wood, cotton or bamboo can be used. Production involves several chemical processes to convert the cellulose into a fibre that could be spun or made into a non-woven.
Due to the extensive processing needed to get to the end result, viscose is not a natural fibre despite its once natural beginnings. Caustic and chlorine is often used in the process. Viscose is often treated with fungicides to prevent moulds and fungal spores whilst in storage. Read more here 
Why would Viscose be found in menstrual products?
Most conventional tampons are made of either 100% viscose or a mix of viscose and conventional cotton. Viscose is highly absorbent, readily available and relatively low cost.
There's a quick test you can try at home:
Place a non-organic brand tampon in one glass of water and a Natracare tampon in another. You will quickly notice the viscose fibres falling off the conventional tampon! Viscose fibres are short and straight and slide apart from each other. They can shed into the vagina, causing increased risk of bacterial build up and infections. Lots of brands use a plastic wrap on the outside of the tampon to try and prevent the fibres falling away ('solving' a problem with a problem…)
Not all cotton tampons are created equal. Only Natracare tampons are made from long-fibre, organic cotton which keeps its integrity when wet thereby preventing fibre loss.
It's important to know the difference between viscose and cotton as they can feel the same. Packs labelled as 'cotton-feel' or 'cotton soft' mostly contain man-made fibres.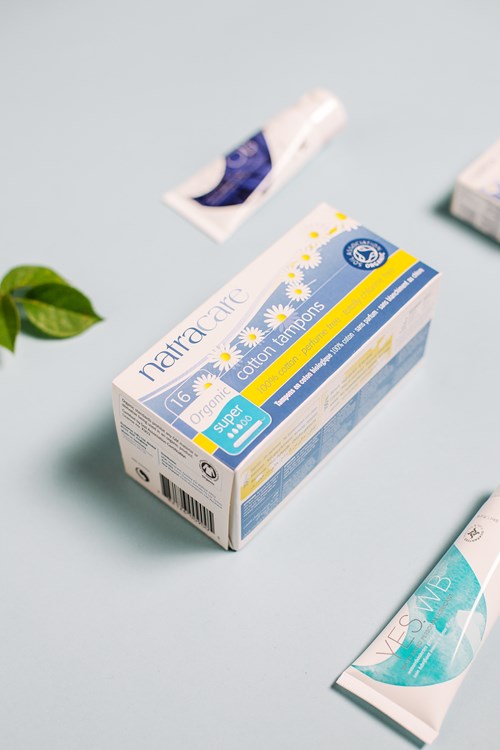 What does Natracare use instead?
We use only certified organic, 100% cotton to make all Natracare tampons. Every part of the tampon is organic cotton. We do not and will not use plastic applicators for many good reasons!  Natracare certified organic wet-wipes are also made from GOTS certified, 100% organic cotton. Natracare pads are made with GOTS certified organic cotton and sustainably-sourced natural and compostable raw materials. 
Why is organic cotton so important for menstrual products?
Organic cotton is tried and tested and has a long history of safe use in tampons. It is also a preferred material to reduce irritation and improve comfort. Menstrual products are in contact with the most intimate, sensitive parts of the body for many hours, days, months and years!
Non-organic cotton used in conventional menstrual products is often sprayed with herbicides and pesticides, leaving residues in the products. There are potentially 203 toxic chemicals involved in conventional cotton growing. These not only has devastating effects on the environment, but also exposes women to potentially toxic residues such as dioxin and glyphosate. Natracare has been using organic cotton from our creation, 30 years ago.
What should our readers look out for when shopping for menstrual products they can trust?
Look for the logo! The Soil Association logo is a trustworthy sign that shows full traceability. They have done the work for you, having investigated the entire certified organic supply chain from the farm, through processing, manufacture - all the way to the end product.
Read the labels. Is there a full ingredient list? If the answer is no, give them the elbow! Ask questions about your period products: do they contain plastic? Have they been bleached using some form of chlorine? Do they contain additives you are not sure about?
Look for products that are honest and transparent about what they are made from. It's not a legal requirement to put the ingredients of tampons or menstrual products on the pack, so many of them will avoid doing so to hide materials you might want to ask questions about. Look for brands that have nothing to hide and are proud of every last ingredient that goes into their products.
Want to watch Susie Hewson (Founder of Natracare) story behind Natracare? Watch her story here. Want to go from organic novice to expert? Find out more about organic beauty and wellbeing and organic fashion and textiles. By choosing certified products, you are making the first step in a bigger movement which helps to combat climate change, protect wildlife and biodiversity and strive for sustainable and innovative farming and manufacturing processes. You have the power to make change, so purchase with power.