Women in Business: Kinn Living
As an ode to Mother's Day we have asked Marie and Sophie Lavabre Barrow (founders of Kinn Living) to share their trials, celebrations and tribulations as organic skincare entrepreneurs and being a mother-daughter duo in business.
For those who don't know Kinn Living, tell us a little bit about it and what inspired you to create it? 
Marie: I grew up between London and my grandparents farm in the South of France. I had a very 'outdoorsy' life and natural way of living. We had food from the farm garden and in general ate organic food before it was on people's radar. I have a very large family where most members are involved in aromatherapy (helping to make it commonplace today), organic supermarkets (my uncle started the first organic supermarket in Provence), organic farming and renewable energy! Two of my cousins have even joined the Kinn Living business! When I had Sophie (now my co-founder) I became even more aware of the harmful products that are being used and what we are doing to our environment.  Many years later when Sophie was studying for her degree we decided that we wanted to start a company that looks after the family with a holistic approach to what we use in our homes and on our skin, hence why we make certified organic body care, eco-friendly plant based cleaning and laundry products.  
Sophie: Like my mum I got to spend a lot of time in the south of France on our families farm and so I've always been aware of eating organic, keep waste to a minimum and using products that are not only good for us, but good for the environment too. When I started uni I began to be increasingly aware of not only what I was putting on my skin and eating, but also what we were using in our home. It seemed odd to me that our cleaning products were filled with harsh chemicals and weird fragrances and synthetic dyes, when I knew already that a good bit of bicarbonate of soda and lemon can job the done just as well.  I knew mum had wanted to do an organic product line when I was younger so I spoke to her about trying to re-launch it, but to also make KINN a more lifestyle based company so we could tackle more areas of the home that are traditionally not thought about!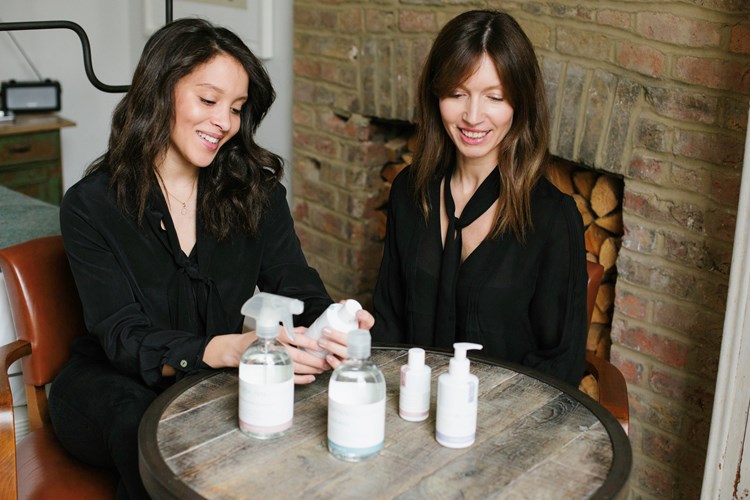 Image of Marie and Sophie Lavabre Barrow (source: Kinn Living)
How did you come to work together as a mother-daughter duo? 
Marie: We had this idea with regards to launching the business whilst Sophie was still studying. She spent the first 2 years of her degree convincing me to let her leave so we could launch KINN.  At the end of year 2 we agreed she would place her studies on hold and we would launch kinn. The timing just felt right.
Sophie: I've always loved hanging out with my mum, and I've always done work for her in her other business (which is where my passion for property has come from and why I studied interior design!) we have very similar taste and aspirations so it felt natural to approach the idea of KINN together as a team.
What is the best thing about being a mother-daughter duo? 
Marie: I have always enjoyed hanging out with Sophie.  No one can make me laugh how she does and whilst sometimes we can drive each other nuts we are both totally supportive of each other and generally get on, so to be building this together is a real pleasure.
Sophie: there are times where I think I may go absolutely nuts, and it can be hard to balance being a daughter and business partner. But I've always loved hanging out with my mum, for my 21st we spent two weeks together in Oman which was amazing. I'd say the best thing about getting to work with her is that I get to see her and laugh with her much more than if I had simply moved out of home and got a job elsewhere. It's also pretty cool to work with someone who is genuinely my role model!
What has surprised you most about working together? 
Marie: For me it has been seeing how my daughter is as a business woman and the way she has learnt so much in such a short amount of time. I am constantly amazed at how quickly she picks everything up and what a sharp business brain she has. They say you can't learn to be an entrepreneur which I totally believe and I think Sophie is a natural.  I love her fearless but measured attitude.
Sophie: I've always known my mum is a natural business woman, but it's amazing getting to see her in action and not just be working for her, but with her. 
What is the key to running a successful ethical business as a family? 
Marie: I think it's just having the courage of your convictions and treating people how you would wish to be treated yourself.  I like a happy working environment and I don't want to do something that harms someone else down the line.
Sophie: I always like by the mantra, do unto others has you would have done to you. I think you throw bad karma out into the world then that's what you'll get back, and it's important to take the attitude with you approach life into business.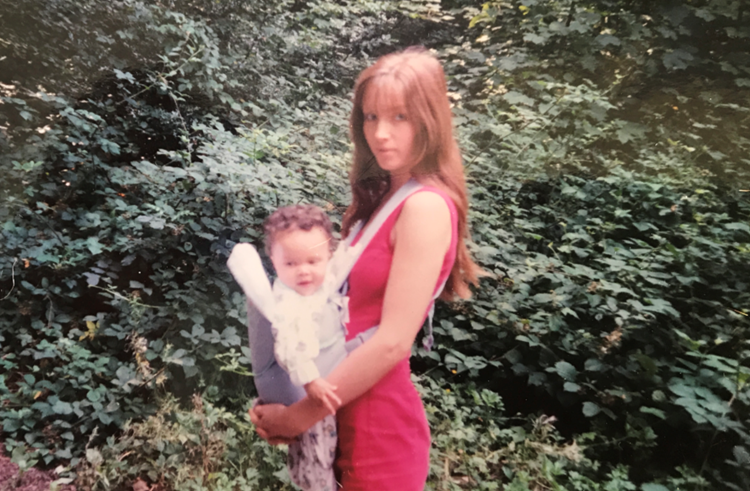 Image of Marie holding Sophie as a baby (source: Kinn Living)
What is the most valued attribute you each bring to the business?
Marie: I am not sure I can answer this for myself but for Sophie I love her creative mind and her ability to think out of the box and the way she will track anything down that we need.
Sophie: I'd say mum brings in so many years of knowledge and experience in running her own business, so it's hard to pick what the best is!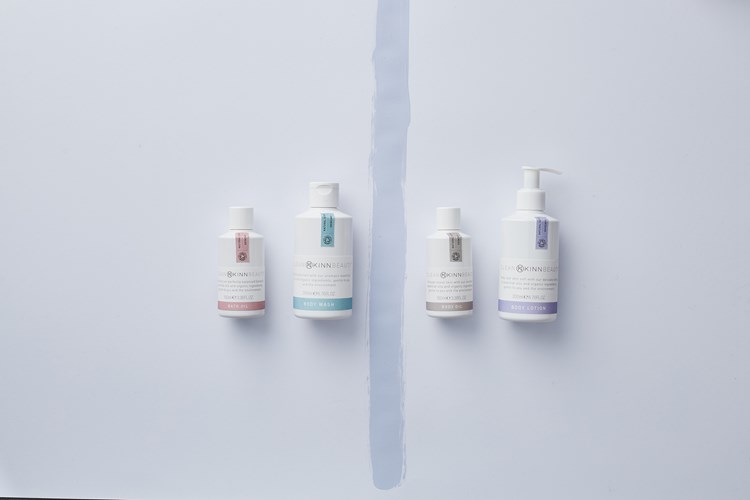 Image of Kinn Living products (source: Kinn Living)
How does having two different generations shape the company? 
Marie: KINN is a family business and in families there are different generations so it allows us to look at things from different perspectives and keep an open mind with regards to new ideas.
Sophie: I think it's great as it means that KINN truly is a family brand, with family at its core. 
And finally, what product from the KINN Living range would make for the perfect Mother's Day gift and why? 
Marie: For me it's the bath and body oils - I do love a pamper when I have some free time and one of my favourite things is a candle lit bath with the bath oils followed by the body oil.  Then I have to admit for a extra treat a lovely glass of wine from Chateau Leoube!
Sophie: I think the best gift is the eco cleaning set and bath oil, so that the kids can clean the house after cooking mum a gorgeous brunch, and then mum rest her feet and relax in a lovely pampering bath! 
Don't forget! The choices you make with the food you eat, clothes you wear and cosmetic products you use, all have an impact on the world you live in. Going organic is easier than you think! Switching to one organic item can help contribute to a more sustainable system - for the better. When you buy certified organic products, you can be sure that:
It contains no GM Ingredients
The organic ingredients are sourced sustainably
The manufacturing processes is transparent
You're helping protect wildlife and biodiversity
There won't be any synthetic colours, dyes or fragrances or artificial colours and preservatives
Want to go from organic beauty novice to organic beauty expert? Click here to find out what ingredients to look out for and click here to find a list of brands we certify.