Why are we calling for Peak Poultry?
The way we produce and eat chicken in the UK is having a devastating impact on the climate and endangering animals and habitats.
Currently, we import huge amounts of soya to feed chickens in intensive systems across the UK. This is unsustainable. The Soil Association is calling for Peak Poultry - We want the Government to act now to ensure UK consumption and production of poultry peaks within the next 12 months. We want them to;
Phase-out industrial chicken from school and hospital menus
Ban new intensive poultry units
Support farmers to transition to agroecological and higher welfare systems like organic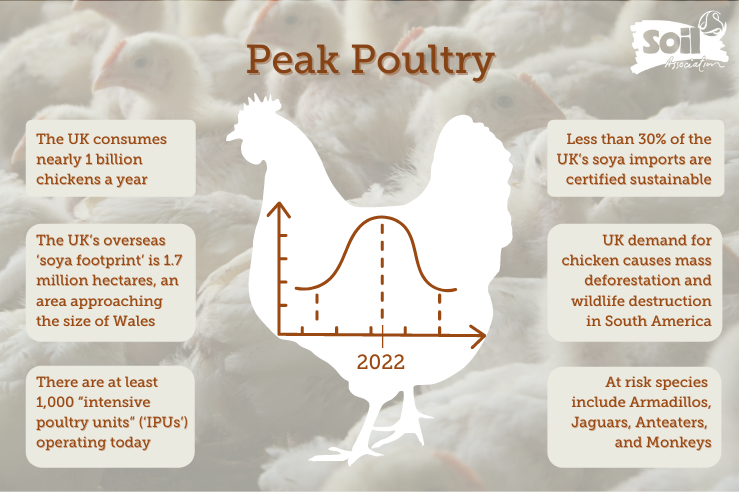 Is eating chicken bad for the environment?
Chicken can be a healthy part of a sustainable diet, and poultry can play a beneficial role in an agroecological farming system. Chicken doesn't have to be bad for the environment but the scale and intensity of production in the UK today poses ecological challenges, while also undermining animal welfare and posing threats to human health.
How much chicken do we produce and eat in the UK?
Chicken is the UK's most popular animal protein, accounting for almost half of all meat consumed. We eat nearly a billion chickens each year - 95% are members of fast-growing breeds, intensively reared in indoor units. The chicken might be a relatively small bird, but it has a large environmental footprint, primarily associated with the production of feed.
There are at least 1,000 "intensive poultry units" ('IPUs') operating today in the UK, an increase of more than 30% in the past decade. This model of production relies upon industrial animal feed containing protein-rich crops such as soya.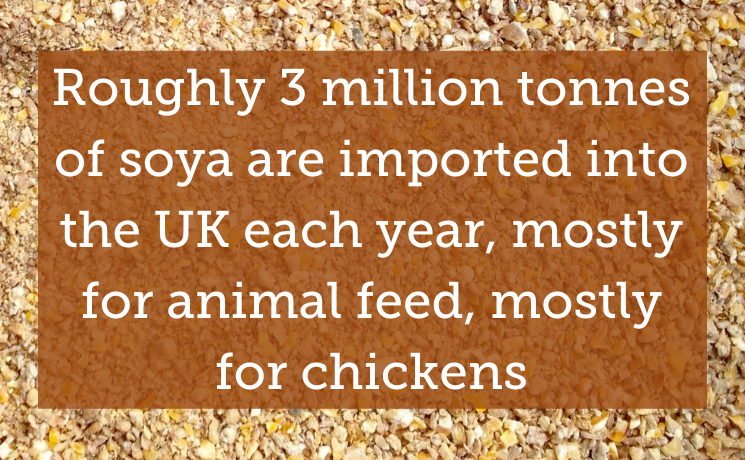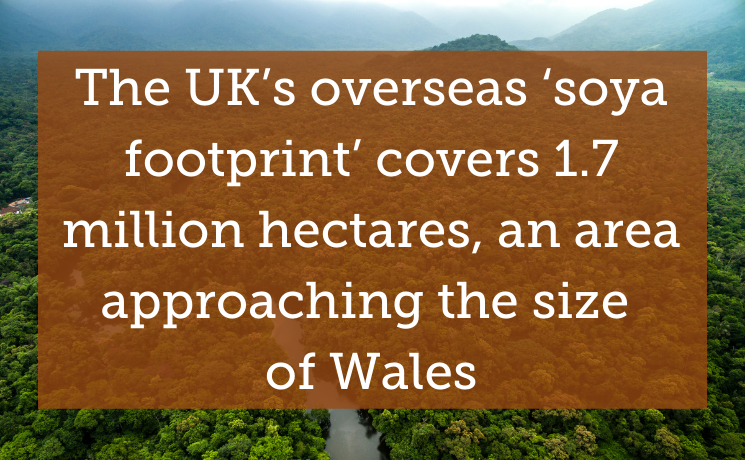 Where does chicken feed come from?
The UK's overseas 'soya footprint' covers 1.7 million hectares, an area approaching the size of Wales. This is the equivalent of a tennis court of soya per person. Most of this land is in ecologically vulnerable areas of the Americas, and less than 30% of the UK's soya imports are certified sustainable. Soya production for chicken feed is known to be driving deforestation and damaging land-use change, threatening the habitats of some of South America's most iconic species, including woolly and spider monkeys, giant otters and armadillos, anteaters and jaguars – all on the International Union for the Conservation of Nature's (IUCN) 'red list'.
With UK poultry consumption roughly double the global average, and global demand for grain-fed meat rising sharply globally, there simply isn't enough land available to sustain our dietary trajectory.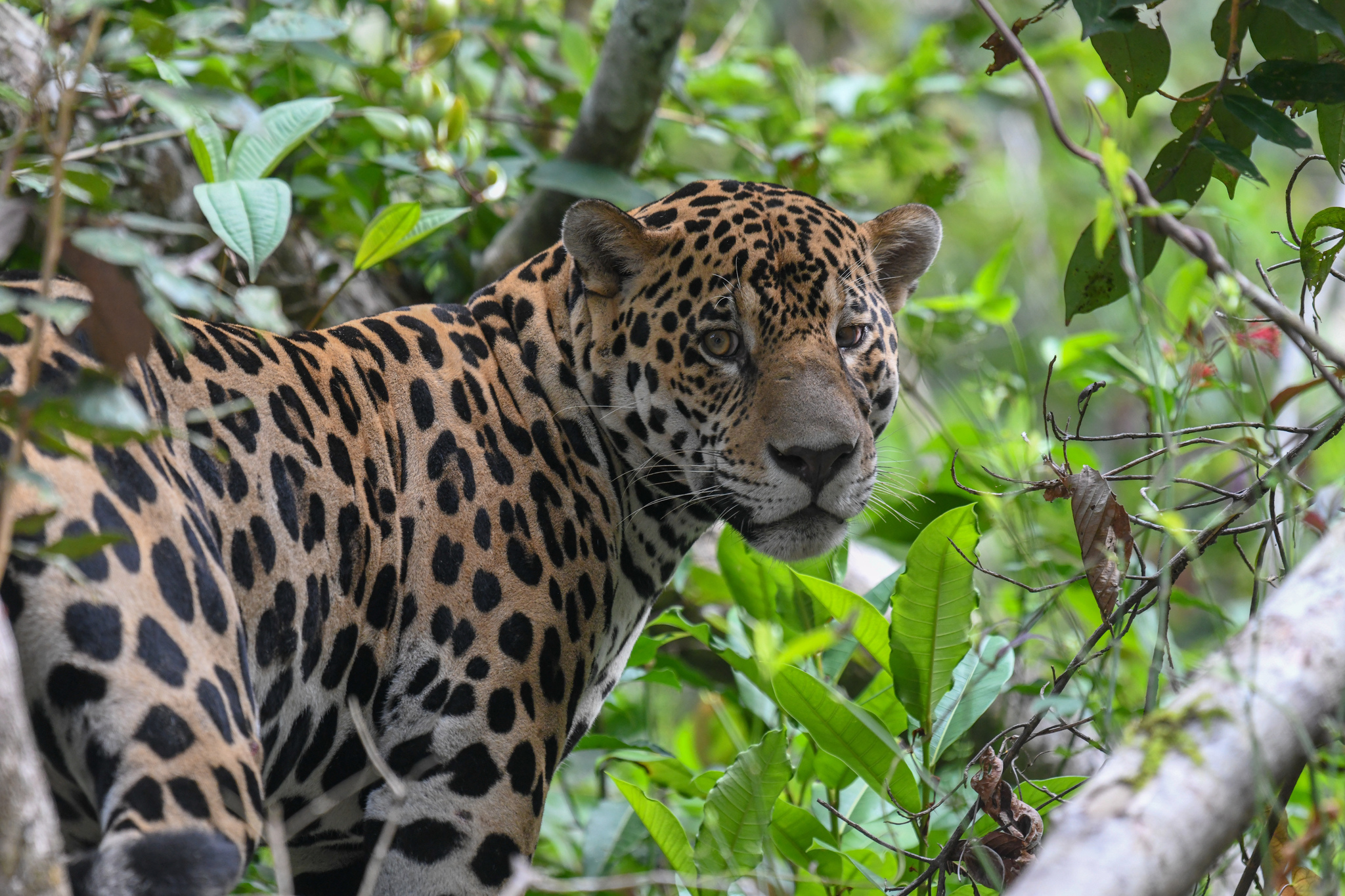 What can be done to lessen the impacts of intensively farmed chicken?
The Soil Association is calling on the government to take action to ensure UK consumption and production of poultry peaks within the next 12 months and declines thereafter, including by
Phasing out industrial chicken meat from the menu in schools and hospitals – the UK is 75% self-sufficient in chicken meat, meaning consumption must peak before UK production can be scaled back to a sustainable level.
Introducing an immediate ban on new intensive poultry units – an August poll conducted by Ipsos Mori found 60% of UK adults want a ban on imports linked to deforestation, with a Soil Association survey finding strong support for a ban on industrial livestock units.
Supporting producers to transition to agroecological and higher welfare production systems – Providing a policy framework so that chicken can be sustainably produced in agroecological systems such as organic.
These demands were issued ahead of the COP26 climate conference, hosted by the UK in Glasgow in November 2021 and the UN Biodiversity Conference, now scheduled for 2022. In December 2020, the Climate Change Committee called for a 20% decrease in meat and dairy consumption by 2030, including in poultry meat. The National Food Strategy called for a 30% decline by 2032. As the UK's most popular meat, with consumption continuing to rise year-on-year, chicken poses a distinct challenge in this context.
How can I eat chicken whilst minimising my impact on the climate and nature crises?
You can still eat chicken as part of a healthy and sustainable diet. Poultry can play a beneficial role in an agroecological farming system, good for climate and nature. 
Modelling by French think tank IDDRI has demonstrated that 'agroecological' farming can feed a growing European population a healthy diet, while resolving the climate and nature crises, but only if we consume less and better meat. Chickens play an important role in IDDRI's model, with their meat providing nutrition and their manures contributing to fertility cycling. In the model, poultry populations are capped according to the availability of sustainable feed, which excludes soya from the Americas.
To reduce the impact of the chicken on our plates, the Soil Association recommends that we eat less overall, to reduce the need for intensive systems. When we do eat chicken we should source it from agroecological farm systems like organic. Purchasing chickens from organic farms means supporting systems that have a lower climate change impact and help boost biodiversity.  
Over the coming months and years, we will be campaigning for 'less and better' meat – a call to transition away from intensive livestock farming, towards agroecological systems which integrate animals into nature-friendly farm systems.