What you can say when marketing organic

What you can say when marketing organic
What you can say when marketing organic  
Organic farming is a system - governed by legal standards, and regularly and independently inspected - that produces food in ways that benefit people, animals, wildlife, society and the natural world. 
Confronted with a sea of labels, competing health claims, food scares and conflicting advice, it's never been more important to be able to communicate clearly about what organic really means.
What is the 'Marketing Organic' booklet?
'Marketing Organic - what you can say' is an essential reference document for anyone communicating about organic, containing statements about organic food and farming that have been assessed against the UK Advertising Standards Authority's (ASA) Code.
The booklet is free to download, and includes everything you need to know about making the most of these statements in your own communications. The booklet focuses on the benefit of organic food and farming for people, animals, wildlife, society and the natural world.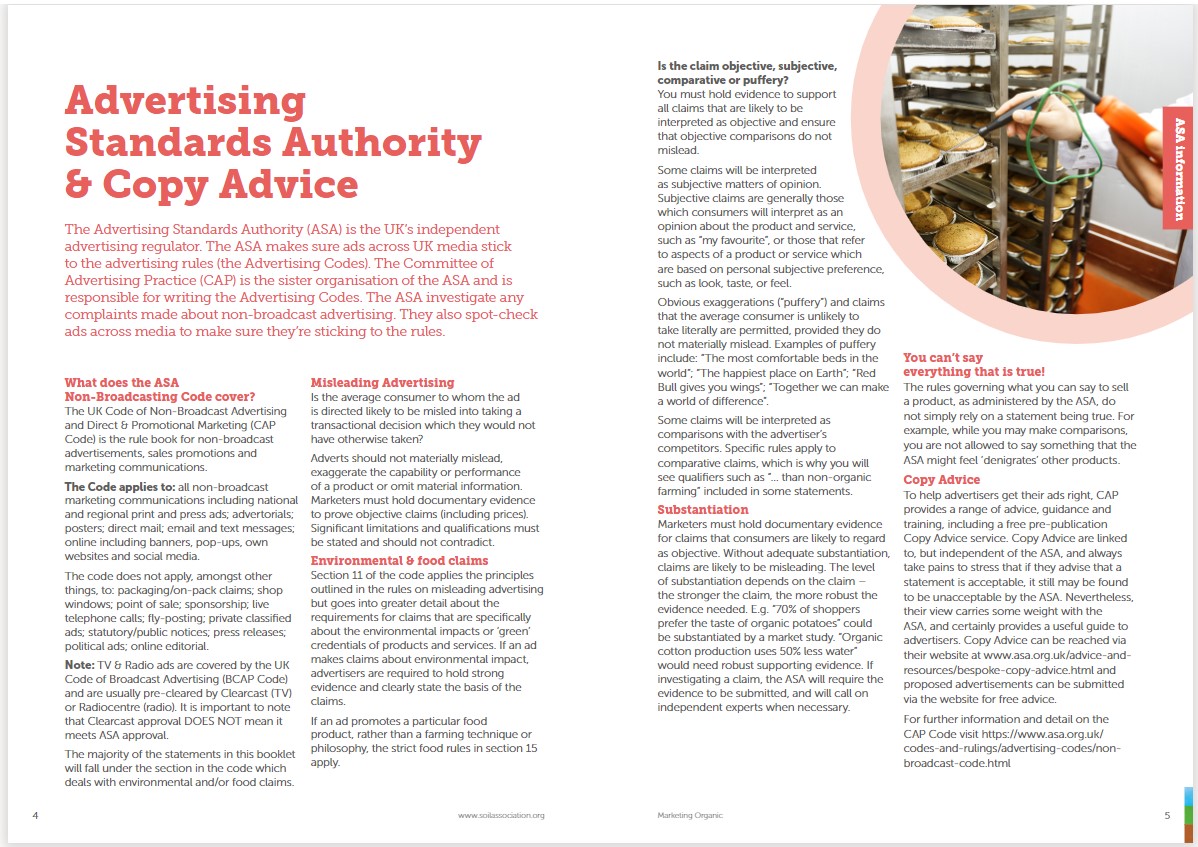 Why is the booklet important?
With citizens increasingly making conscious, planet-centric decisions, and the industry increasingly cracking down on greenwashing, the time is now for the organic industry to harness this momentum for change, and work together to promote a strong, clear and correct message about the role organic can play­ in mitigating our climate, nature, and health crises, producing sustainable food for all. The booklet covers the organic principles, and specifically covers sustainability, climate change, animal welfare, soil health and wildlife.
The statements set out in the booklet are there to support you to talk about organic in a clear, factual and legal way. This document was prepared following discussion with the Committee of Advertising Practise (CAP), and in reference to the principles of the CAP Code.
Using the guide in line with ASA and CAP Regulations
We advise you to always submit your own advertising copy and materials to Copy Advice (CA) before using them, as the context in which the statement is used, and any associated imagery, can alter the meaning of the words.
Proposed statements can be submitted for free, and CA aim to respond within 24 hours. Please note, CA stress that amendments made on their advice may still be found unacceptable by the ASA.
For full information about using the statements in line with ASA Advertising code, download the booklet or view it via PaperTurn below.