Neil Forbes - Cafe St. Honoré

Organic Served Here Case Study - Cafe St. Honoré
Cafe St. Honoré, Edinburgh
3-star Organic Served Here award holder (50-75% organic menu)
As Chef Director at Edinburgh's prestigious Fresh-inspired bistro, Cafe St Honoré, Neil Forbes is a well-known orator on the importance of sustainable sourcing in the foodservice industry.
Upholding his passion for organic, Cafe St. Honoré has achieved 3 Organic Served Here stars every year since 2017 - we sat down with Neil to find out why he chooses to certify as an OSH Award Holder.
How has your life and career influenced you to cook with organic?
Having cooked professionally for almost 35 years now, I've seen many changes in the catering industry. Some of these changes we have all embraced, like good food for all, and generally food is of a better standard now than it has ever been.
However, I believe we are at a point where we can do so much better. I decided 11 years ago when opening Cafe St Honoré to become as organic a restaurant as possible. I knew the right people to speak to, including organic farmers. I knew I had a duty of care to the people that eat the food that I cook to serve the best ingredients I can find. And this path always led me down the organic route.
I'm proud that Cafe is now known as an organic restaurant that cares. We work closely with the Soil Association on new initiatives and campaigns to raise the flag for better food for all, now and in the future. 
What are your 'must have' organic ingredients – and why?
My must have organic ingredients are salad leaves from Phantassie Organic in East Lothian. It's stunning all year round. And their kale is very tasty blanched and sautéed with some beef fat. I also love Grierson Organic chickens from Perthshire - they're very special. Sascha Grierson is a good friend and supplies us with many products, but the chicken is king! We eat one roasted on a Sunday with a classic bread sauce.
What made you sign up to the Organic Served Here award?
Cafe St Honoré initially signed up to the Soil Association's Organic Served Here award as a signifier of quality. I have cooked with organic at the forefront throughout my professional career, and using an organic rating as a way of choosing where to eat out is a no brainer for me. It has also raised the profile of Cafe and helped to place us firmly on the foodie map of Edinburgh.

What has been the impact on business as a result of serving organic and/or having the Organic Served Here award?
I'm sure there has been a very positive effect on business since being part of Organic Served Here, with people seeking us out as a place to eat which cares about how we buy, cook, teach and serve. An increase is an increase in these difficult economic times and with so many places to eat food now, you have to stand out as being one of the best. With help from Soil Association, we have a great rating.
How important is organic to your business?
Being predominantly organic is so important to me personally and that rubs off on the people that work at Cafe. Buying organic means eating a local, well-balanced diet consisting of fruit, veg, carbs, grains, pulses, meat and dairy. I'm in charge of the careers and the meals of so many people every day, I feel I have a duty of care and I see buying organic as the best you can do with your hard-earned pennies. I also see organic as economically beneficial, as we support our local producers and make sure they survive.
Do your customers comment on the Organic Served Here award? If so, what has been the response?
We have had a number of guests asking and also a few trade folk asking about it. As we're open 7 days a week, we get lots of chefs and front of house folk on their days off, so I'd say that being the first in the UK to be a part of this is also helping to let others see how important organic is. I'm proud to say we started the ball rolling. It's also good to give the public a sign, or a mark of quality, as a place they can trust.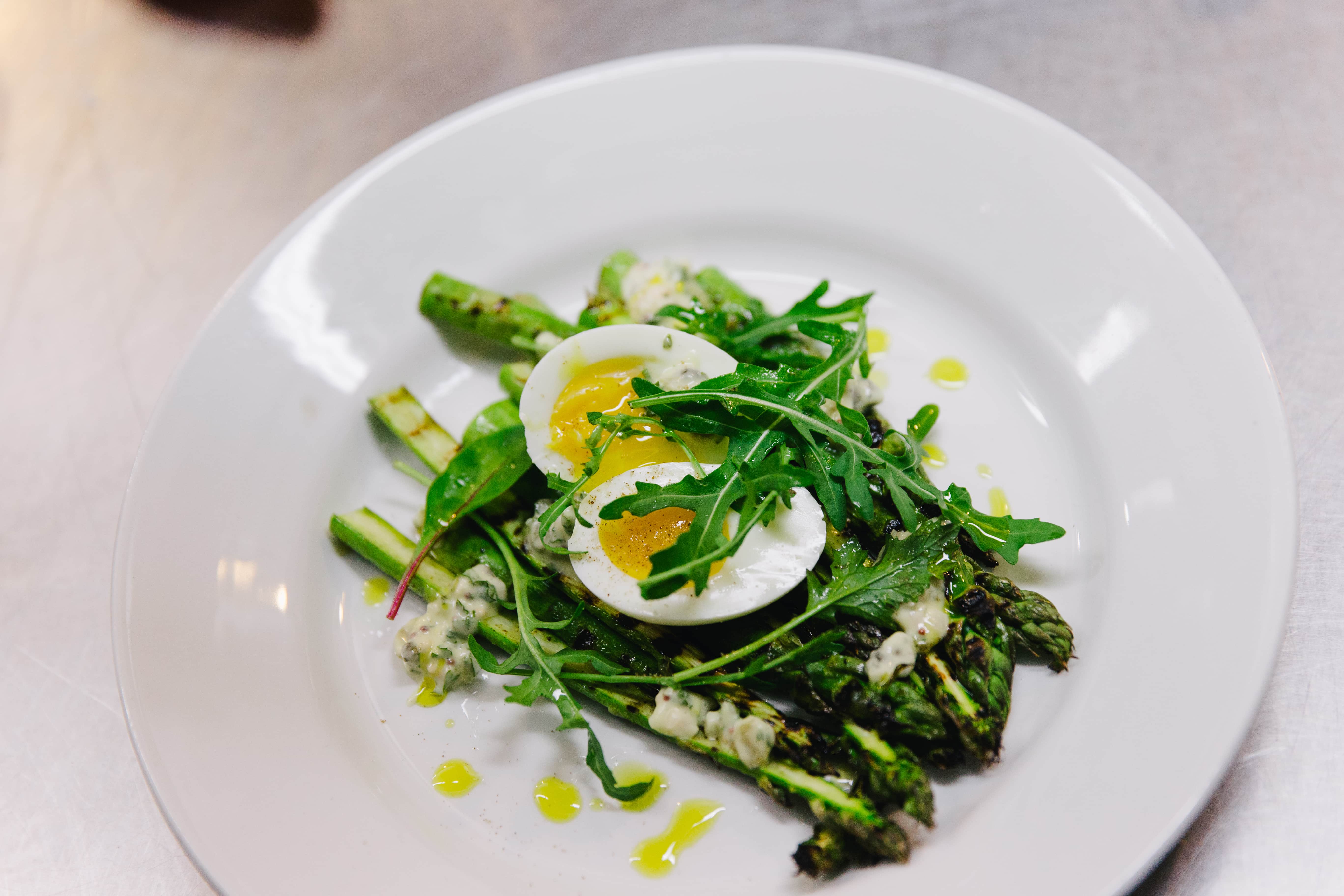 Have there been any key challenges to using organic and, if so, how have you worked around this?
Now I'll be honest here. Not harsh, honest. Working with small-scale, local and independent - often farmers with a small handful of workers on their teams - can be very difficult at times, for many reasons. Deliveries are often only twice a week, and not necessarily when you want them - sometimes in the middle of a busy service - but these wonderful people work different hours to us and we work around it.
If we are busy and run out of an organic product and we aren't getting another delivery for a couple of days, what do I do? Usually we over order, but we know in winter it's quieter and holding fresh stock unnecessarily is madness, plus we want the freshest produce. We make it work because we have the ability to change the menu daily, and by salting, curing, pickling, smoking and preserving when we have a glut, we always have something there to sell. We can always walk up to the Farmer's Market to pick stuff up, or ask the producers and artisans to drop off on their way home. It works, because we make it work.
What are your top tips for putting organic on the menu?
One of my top tips would be to go to your local markets and ask what's in season. Create menus in line with the seasons and always use organic wherever possible. The small increase in food costs for organic eggs and dairy, for example, are worth the few extra pennies when you consider the huge benefits for environment and our health. Also, if your guests are aware that a high-priced main course item is organic, they'll have an understanding of the value behind that price tag.