Getting inspired at Riverford
On Tuesday 1st May, we teamed up with Riverford Organic to bring together a group of Food for Life Served Here Award Holders, as well as organic farmers and suppliers, at Riverford's Wash Farm in Devon.
The aims of the event were to inform caterers about the benefits of organic farming and inspire them to shout about these benefits, to encourage bronze award-holders to consider buying organic and to provide a platform for networking and sharing ideas.
The group were given a warm welcome by Peter Cole, Head of Wholesale Operations at Riverford. This was followed by an introduction to the Food for Life Supplier Scheme and the tools that are available to help connect caterers and suppliers. Hannah Caswell from the Food for Life Served Here team introduced the new silver and gold Food For Life Served Here standards as well.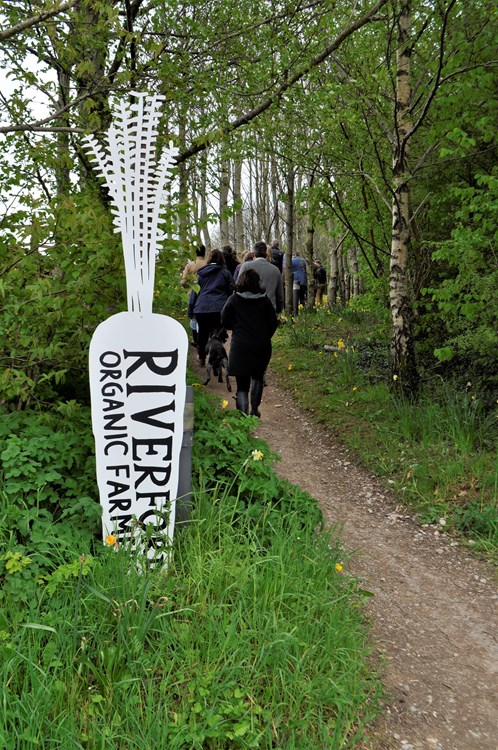 Sarah Harrison's, Devon Norse Catering Operations Manager, gave a talk about achieving the silver Food For Life Served Here award and its benefits, which was inspiring for the attendants to hear it first hand. This sparked some very open discussions about the challenges of promoting the silver award. For example, in farming community's caterers find that they have to be careful about how they promote meat-free days. The group then debated further about the types of messages they would want to use in a school and what would interest pupils.
The open-floor discussion was followed by a delicious local, seasonal and organic two-course lunch, which went down well, and the afternoon was spent doing a farm tour led by Riverford's Guy Watson. Guy's tour was very engaging and included a wander through the woods in search of wild garlic. The farm is set in the beautiful Devonshire countryside and offered the perfect space to inform attendees about organic farming practises and how they protect the countryside around them.
The day concluded with a further chance to network. It was great to see this group come together, as they often don't get the chance to do so – on top of an already brilliant day, it also gave the participants a chance to discuss their experiences, their motivations for buying organic and sharing ideas for promoting their achievements.