Alan Schofield: Profit through trees
When you think of horticultural land, you might imagine open fields with row upon row of leeks, kale, or potatoes. But when Alan Schofield purchased his farm back in the 1980s, this wasn't the case. Instead, the previous owner had planted rows of trees in some of the fields. The term may have not been coined back then, but this was a textbook example of agroforestry.
We caught up with Alan to talk about how he has taken advantage of his inherited agroforestry system.
First off, give us a brief introduction to agroforestry?
I see agroforestry as a 3-D cropping system, I can harvest wood from the trees whilst also planting crops in-between them. It's about working with nature to enhance the environment of the farm – whether that's by increasing biodiversity or stabilising the ground. The majority of our trees are harvested when they're 4-5 years old (4-5 inches in diameter), they're perfect for heating the farm and help make us self-sufficient.
What variety of tree do you grow?
The system was put in place by the previous owner who had seen examples of agroforestry in France. The trees we use are Grey Alder Trees – they're perfect for our flat, wet land; they have extensive root systems, love water and act as natural wind breaks to the spring gusts that whip off the Irish sea.  
How do you manage the trees?
This is a small market garden so it's only actually 3 and a half acres in size. At the moment, there is around 40-45ft between the tree rows – so we get 6 to 7, 5ft wide beds in-between each set of trees. We manage the trees on a five-year pollarding system - they won't take coppicing but they will take pollarding beautifully.
We've got continuity in the way that we cut the wood. Every year we have a system of eight different windbreaks. And every year we try to take one or two out for timber and that produces enough for us.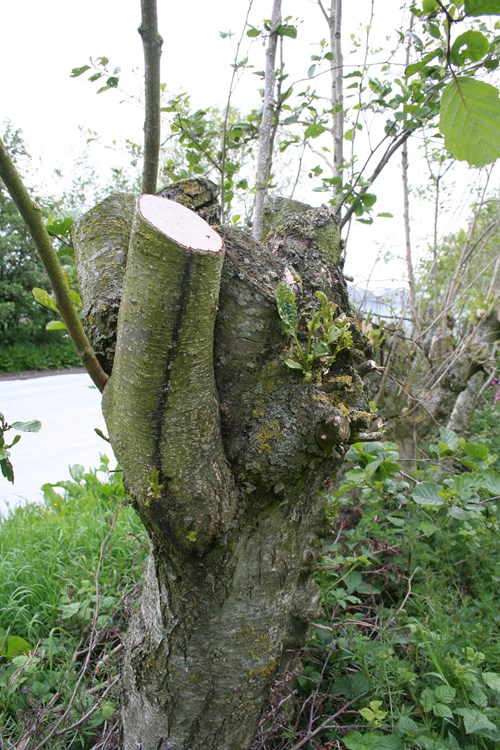 A well pollarded Alder 
What crops do well?
We find the upright crops – alliums, sweetcorn, leeks and some brassicas - see absolutely no depreciation of yield though the brassicas will only grow in the centre parts of the wind breaks. It's also important what stage of the pollarding process you're in as the light conditions greatly affect what you can grow. The shorter-term brassicas, kohlrabi, spring cabbages, and the cruciferous weeds will be fine. But when you're talking about the taller brassicas - the brussels, the broccoli - you can only grow these in the central beds.
What do you grow on the final part of the pollarding rotation, where the trees are the most substantial?
That's when we put that particular section down to a red clover and green manure. We'll finish cropping round Christmas time and then leave it fallow. When it dries out enough in the spring to cultivate, we will run our tine cultivators through and then have a good weed strike. Come the summer, when the soil is warm, we will double seed it with red clover. That red clover crop will be there 18 - 20 months before it's ploughed in. This coincides with the trees being pollarded and we will then grow potatoes and squash in those particular sections because there will be much more light.
If you were to redesign your system would you do anything differently?
I'm happy with how the system works and the fact we benefit from it - because even though it's a small market garden we are self-sufficient in timber which saves us a fair bit on an annual basis. What I would do differently is have a fair few mature trees that I wouldn't manage, and then again, we could be taking a cash crop from them.
I have recently helped set up a system in Lancaster, Claver Hill, a seven-acre market garden plot with Plum, Apple, Damsen, and Pear trees in-between some of the Alders we're growing for timber. We're entering the third year and really starting to see the benefits regarding the windbreaking and fruit producing capabilities of the agroforestry system. It's nice to see it going back, growing vegetables and benefiting the local people. It's actually in an area of Lancaster that is one of the most deprived in the north west and the number of volunteers they're getting is amazing to see.
Want to learn more about your soils? Have a read of the soil tips and advice written by our experts.