Monitoring carbon on farm
Farming advisor Karen Fisher offers an oversight on two projects monitoring and evaluating carbon.
Carbon Assets for Soil Health
Since Spring 2021, 61 farmers from across the UK have carried out soil sampling on their farm to assess their soil carbon levels as part of the Carbon Assets for Soil Health (CASH) project using the NRM Laboratories Soil Carbon Check plus analysis.
Soil sampling
This entailed participants taking around 15 samples per field of soil, over the cropped area to a depth of 30cm. The top 20cm of the soil tends to be where the carbon is more active with a quicker turnover, so for the more stable carbon farmers need to go deeper into the soil profile.
The analysis assesses the current carbon stock and soil organic matter, the plus part of this analysis includes the active carbon which is the portion of organic matter which is readily available to feed the soil microbiota.
This was a new analysis for NRM in 2021. They released average figures of the soil analysed so far.
SECTOR
AVERAGE CARBON STOCKS T/Ha
AVERAGE

 

SOIL ORGANIC CARBON

 

%
Arable
86
2.62
Horticulture
122
3.52
Livestock
113
4.07
Mixed
85
3.09
For comparison, natural habitats which had been sampled had an average carbon stock of 220t/ha and average soil organic carbon of 17.74%.
For the 61 farms which have been sampled as part of the CASH project we have average carbon stock figures from across all sectors with stocks from 29T/ha - 274T/ha.
However, these figures alone do not tell us much. They can be a starting point, but the most important question to ask is 'so what?'.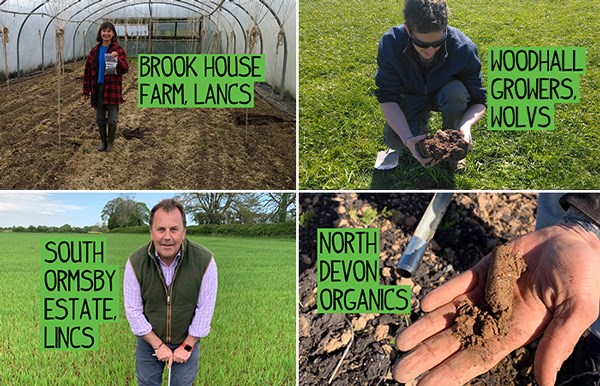 Participants of the CASH project share their soil sampling activities
What's next for Carbon Assets for Soil Health?
The next step for the CASH project is to take the 61 farms from this season and examine the farming practices which have been carried out on these fields both currently and historically alongside the different soil types. The project in the current format is going ahead until 2023, however it would not be sensible to sample the same fields again in 2022 as the carbon levels in the soil do not tangibly increase within that timescale.
NEW: Farm Carbon Toolkit Monitoring Soil Carbon guide
The Farm Carbon Toolkit recently published guide Monitoring Soil Carbon: A Practical field, farm and field lab guide which recommends sampling the same field for carbon every 3 to 5 years. Next season we can sample different fields on the same 61 farms or/and recruit different farms into the project.
The guide from the Farm Carbon toolkit is a useful, practical guide for those who would like to get started on benchmarking existing carbon levels in their soil. While there are still no official protocols in the UK on how soil sampling should be carried out if you wish to sell your carbon, this is a good way of deepening your understanding.
The UK Farm Soil Carbon Code (UKFSCC) is being developed to overcome this issue. Several industry stakeholders including the Soil Association are collaborating with the Sustainable Soils Alliance on this. 
Using projects such as CASH, working alongside our Soil Association Exchange initiative and co-operating with other interested parties will help move the industry towards a system which successfully captures soil carbon as a result of adopting organic and agroecological/regenerative farming systems and practices.
Find out more:
Read more about our Carbon Assets for Soil Health (CASH) project.
Lots of useful resources, including Carbon Calculator and Monitoring Soil Carbon Guide at Farm Carbon Toolkit.
Find out about Sustainable Soil Alliance's Soil Carbon Code.
Read more about Soil Association Exchange - Collaborative centre of excellence for nature friendly farming