Tom's Organic Moroccan Scramble
This is our favourite brunch dish at Poco, it's a great alternative to an English fry up and very filling. The merguez recipe is a winner and works well in many different recipes. I recommend using it to make burgers for a BBQ served in a bun with hummus and roasted peppers.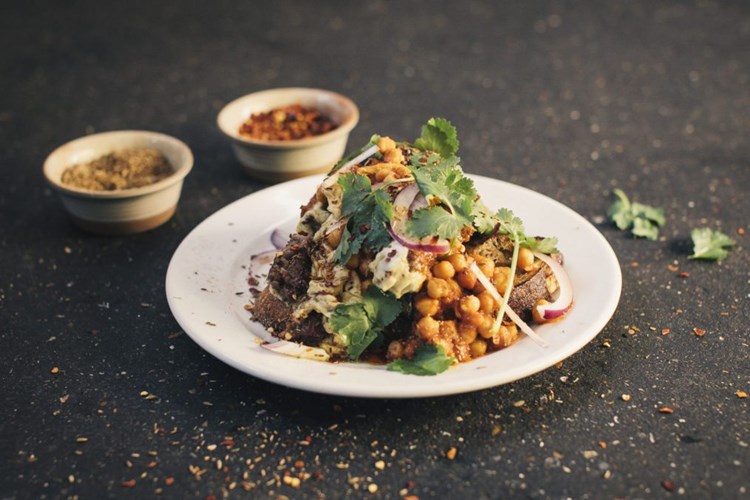 Recipe 
Ingredients
To make the merguez
2 tsp ground cumin
2 tsp ground coriander
Pinch cayenne
Pinch salt
180g minced organic lamb
To make the harissa beans
150g cooked cannellini beans
150ml organic passata
2 teaspoons harissa (or to taste)
To make the Moroccan Scramble
4 large organic eggs, lightly beaten
2 slices organic sourdough
Drizzle of olive oil
6 sprigs coriander
1 spring organic onion, sliced diagonally
Sprinkle chilli flakes (optional)
Getting started 
To make the merguez mix the spices and salt into the mince well. To make the harissa beans mix the ingredients together, season to taste with salt and pepper, adding extra harissa if you like it hot.
When you are ready to eat and have your ingredients prepared and in place you can start to make the Moroccan scramble. First heat the beans, slice the spring onion and pop the toast on to grill. Then heat a frying pan until it's hot, crumble the merguez into the pan and leave to gain colour. Flip the merguez so that it cooks on both sides. Put the bread on the plate ready to go with a drizzle of olive oil.
When everything is ready add the beaten eggs to the frying pan. The cooking process will happen very quickly so keep alert. Allow the eggs to set on the bottom ever so slightly, then turn in a figure of eight just once. Allow it to set slightly again and repeat a turn. By this point the eggs should be about cooked but hopefully still a little runny. Take them straight out of the pan and divide them piled on the toast between your two plates. Spoon half the beans onto each plate, over the eggs. Finish the plate with slices of spring onion, sprigs of coriander and a sprinkle of chilli flakes if using.