Prawn & Soba Noodle Salad
Fresh summer salads from Plenish 
On the days you're not cleansing, Plenish have the perfect recipe to keep your diet and your waistline in check from their resident chef Josephine O'Hare.
This salad packs an almighty punch! the creamy nature of the dressing, loaded with great fats from the avocado and the cashew milk, keeps you satisfied long-after lunch. A cracking combination of ginger, avocado, sweet and smoky prawns and raw vegetables delivering crunchy texture and maximum freshness.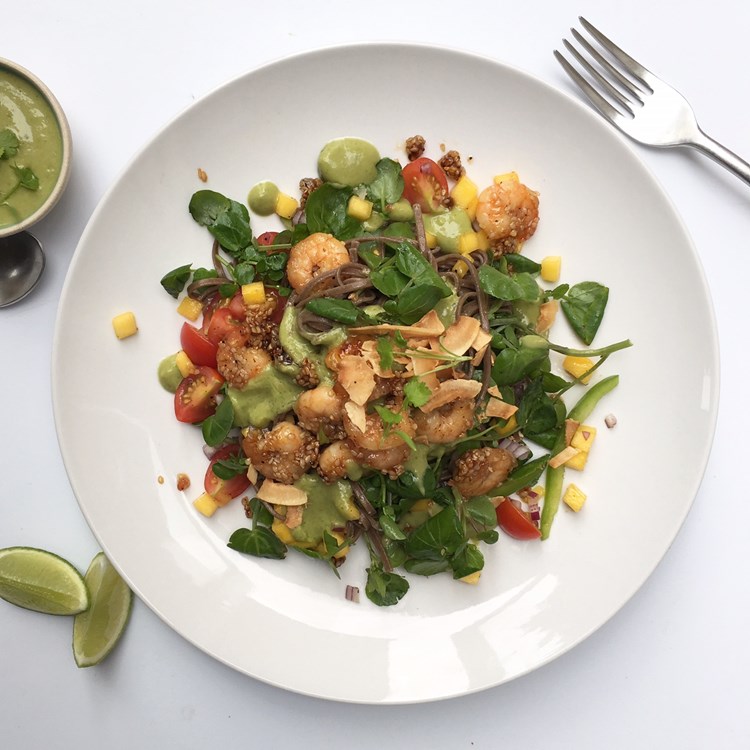 Serves two 
Recipe
Ingredients
For the prawns:
2 tablespoons of toasted sesame oil (or coconut oil)
180g peeled, raw prawns (or approximately 2/3's cup)
1 tablespoons honey (optional)
1 teaspoon tamari
A tiny smidge of garlic
For the salad:
Approximately 100g soba noodles
1/2 green pepper
1/2 mango
1/2 red onion (or 4 spring onions)
12 cherry tomatoes
2 handful of salad leaves (I love watercress here!)
A few sprigs of fresh mint (optional)
1 tablespoon toasted sesame oil (or coconut oil)
1 tablespoon of brown rice vinegar, or juice of 1 1/2 lime
Salt & Pepper
For the dressing:
1/4 large ripe avocado
1/2 cup cashew milk
1 lime, juice only
Thumb sized hunk of fresh ginger
1/2 small red chilli - or as much or little heat as you like
A generous handful of fresh coriander
Salt & pepper
Optional: sprinkle with toasted coconut
Method
First, put a generous pot of salted water on to boil. When boiling, cook the noodles for 4 minutes (or as per the packet's instructions). Drain, and rinse under running cold water briefly. Allow to cool.
Next the prawns. Heat the sesame oil in a medium frying pan, while it's heating crush the garlic to a fine paste with the flat side of your knife. When the oil's hot, add the prawns (they should sizzle immediately!), after 30 seconds add the sesame seeds, honey, garlic and tamari. These will sizzle and caramelize. Cook for another 1-2 minutes, moving the prawns around the pan constantly, before tipping onto a plate to cool – be sure to keep all the leftover flavoursome pan oils too.
For the dressing, peel and grate the ginger and roughly chop the chilli. Quite simply blitz all these ingredients together either using a hand-blender or a jug blender (if using a jug blender perhaps double to quantity); taste and adjust the seasoning accordingly. This quantity will be slightly more than you need for the salad here, but any extra will keep for 2-3 days.
Next, simply prep the other ingredients by quartering the cherry tomatoes, dicing the mango, finely dicing the red onion, and chopping. Mix this along with the salad leaves and the soba noodles. Loosen with a tablespoon of sesame oil and rice vinegar (or lime juice) – this also will brighten all the individual flavours too.
Served in shallow bowls, topped with the sesame fried prawns and generous dollops and drizzles of the fiery avocado dressing.
The original post, alongside more recipes can be found here: https://www.plenishcleanse.com/mag/