A vegetarian alternative to your Christmas table - brought to you by the amazing J
o Ingleby from Community Farm. 
Choose a beautiful variety of squash such as Crown Prince or Turks Turban as this dish is best served whole at the table. This can be made a day in advance and be stored in foil ready to be cooked with your Christmas meal.
Picking a squash the right size for your party will help reduce waste. A 700g squash will feed 2-4 and 1kg 4-8. Don't worry too much about following the recipe to the T.
Use what you have available, have fun and get creative. This recipe is suitable for a 700g squash.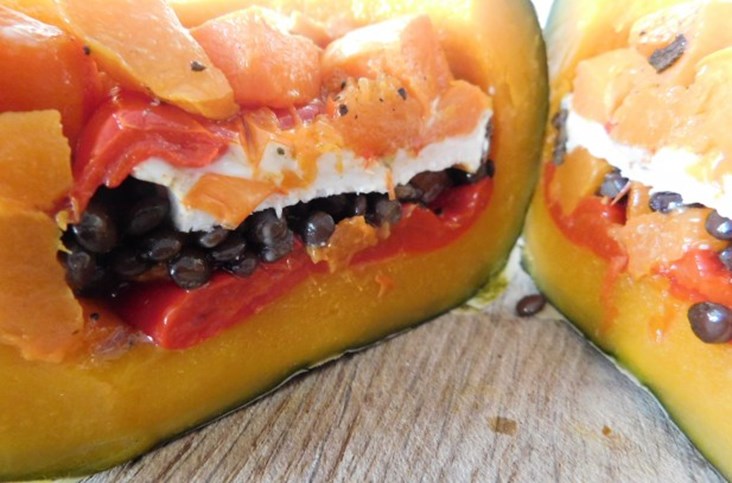 Method: 
Slice the top off the squash and remove the seeds. Scoop out the flesh (this can be roasted and added to the filling). Rub the inside of the squash with olive oil, garlic, salt and pepper and bake at 180c for 30 minutes. Leave to cool. Layer the inside of the squash with the cooked ingredients, herbs and spices; alternating to create different coloured stripes. Fill the squash right to the top and push down. Place the "lid" back on top and wrap with foil. Return to the oven for 30-40 minutes. Serve as the centrepiece of your festive meal with roast potatoes, Brussels sprouts, gravy and Yorkshire puddings.
Ingredients
1 beautiful squash (Crown Prince, Turks Turban or Onion)
200g

(uncooked weight)

roasted squash or sweet potato
40g Cooked beetroot
40g Cooked Puy lentils, beans or pulses
40g Roasted peppers, artichokes or sundried tomatoes

(sliced)

40g Roasted chestnuts or walnuts
Handful chopped parsley, sage, thyme or rosemary
1 clove garlic
1 tsp chilli
1 tsp smoked paprika
70g goats cheese, brie, mozzarella or feta