Rebel Recipes' Superfood breakfast bars
Try out this delicious and healthy breakfast recipe from our BOOM Award winning food blogger - Niki Webster from @RebelRecipes. Find out more about Niki and check out her incredible blog here. 
The Recipe
As there are now local strawberries in the shops (yay) I really wanted to use them in my recipes, ripe juicy strawberries are just the best dont you think?
My first recipe is a perfect on the go breakie! Superfood breakfast bars topped with strawberry chia jam. These little guys are so good – yummy organic oats and packed with nuts, seeds and bananas. Not only are they healthy they're extremely moorish and kids would love them.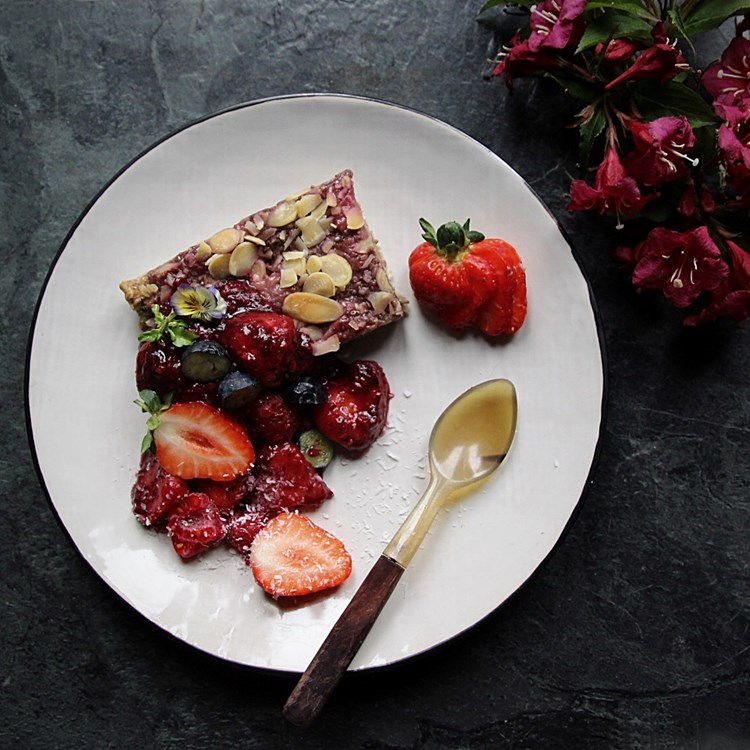 Serves: 6-8
Prep time: 10 minutes
Cook time: 20-25 minutes
Ingredients
For the chia jam;
2 cups chopped organic strawberries
2 tbsp maple syrup
2 tbsp organic chia seeds
3 really ripe large bananas squished
2 cup oats ( I use organic gluten free)
1/4 cup flax seeds
1/4 cup sunflower seeds
1/4 cup pumpkin seeds
2 tbsp chia seeds
1/4 cup desiccated coconut
1/2 cup ground almonds
1/2 cup walnut peices
1/2 tsp cinamon
1 tsp vanilla powder or essense
2 tbsp maple syrup
1/3 cup coconut oil
2 tbsp crunchy organic almond butter
Toppings;
Flaked almonds
Directions
To make the chia jam;
Add the strawberries, maple syrup and chia to a small saucepan. Cook on a low heat for 10 minutes stirring occasionally to ensure all the chia seeds are mixed in and everything is combined.
Set aside
Pre heat the oven to gas mark 5/190C
Mix all the dry ingredients in a large bowl & add the mashed bananas
Heat the maple syrup , coconut oil & almond butter in a saucepan over a low heat until combined
Add the wet mix to the mixture & stir well until everything is combined (this shouldn't be too wet).
Line a baking tray with grease proof paper & spread the mix on top, around an inch thick.
Dollop the strawberry chia jam on top and spread over the mix, then sprinkle over the flaked almonds.
Bake for 20 – 25 minutes
Remove from the oven, leave to cool slightly & then divide into squares