10 Veggie Stew & Organic Wine
"This recipe is not just simple, it is also very versatile in terms of great wine pairings. To prepare it, simply think how flavoursome you are making it. As a rule of thumb, lighter dish will call for organic white wines with more delicate profiles – Pinot Grigio or Verdejo, or lighter bodied organic red wines – Pinot Noir, Gamay, Merlot. If you made your ratatouille spicy, opt for wines that have got spicy profile too – Barbera and Tempranillo would be great. Should your dish be very flavourful, think about richer white wines – Gavi, Pecorino or fuller bodied red wines – Malbec, Cabernet Sauvignon or Nero d'Avola. Experiment with flavours and matches, this should be a very pleasant sensory experience for you. Enjoy!"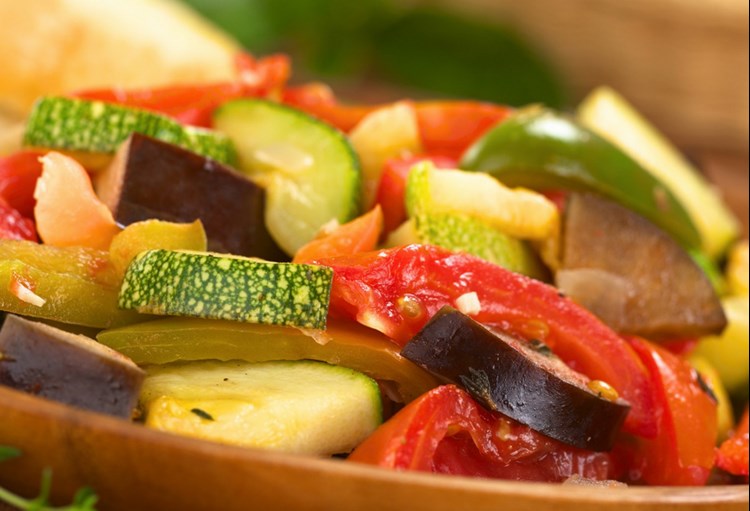 Ingredients - Serves 4
Time: 45 minutes
2 medium organic aubergines
3 organic brown or red onions
2 medium organic courgettes
150g organic green beans
2 medium organic leeks
200g organic tomatoes
50g organic celery
4 medium organic carrots
150 g bag of organic spinach
2 organic romano peppers
2 cloves of organic garlic
2 glasses of your favourite organic wine (175 ml each per person)
Method:
Start with sautéing harder veggies. All of them must be cleaned and cut in medium sized chunks. Heat olive oil in a fairly large pan and soften onions, celery, carrots and garlic. Watch out not to burn anything and then move on by adding aubergine, courgette, green beans, leeks and pepper.
Season everything to your taste and make sure nothing sticks and burns. Veggies will be ready in 20 minutes or a bit longer if you cut them in larger chunks. Taste everything whilst it is cooking, you are in control how you like your veggies.
When your veggies are almost cooked, add chopped tomatoes and spinach. You will need to cook it all through for another 10 minutes or so.
This recipe is very versatile. You can always adjust it to make it work as if it was a different dish from another cuisine. Add basil in the last 5 minutes of cooking for this Italian twist or smoked and spicy paprika for Spanish one. Chopped rosemary and thyme will add that special Mediterranean flavour, but you can opt for chilli and jalapeño peppers for Mexican one.
Serving suggestions are also versatile: as an easy side dish to virtually anything, sprinkle with cheese for creamier flavour or discard extra juice and serve in warm tortillas as a veggie taco. Think of your own preferences and experiment away!
Organic Wine Club is a specialist organic wine retailer focusing on natural and multi diet friendly wines. We have expertly handpicked organic wines made with no added sulphites, additives, preservatives and allergens.
Find out more about them and learn more about wine and food matching here: organicwineclub.co.uk