Everyone loves a good houmous. Masters of organic houmous The Precious Pod gave us their avocado houmous recipe to make Organic September even tastier.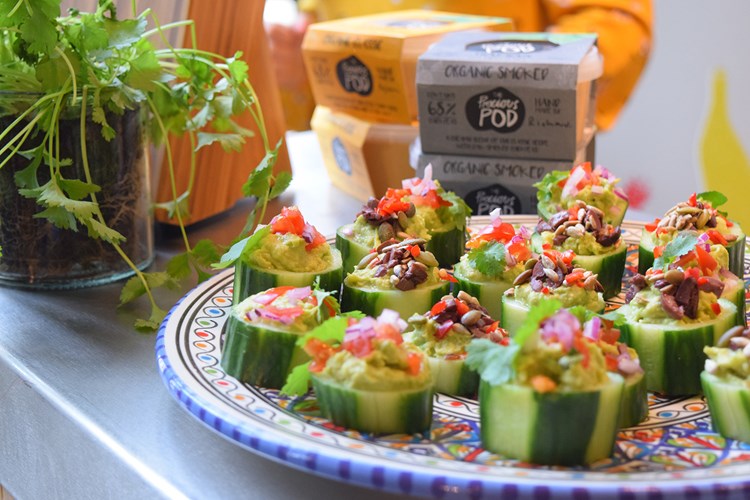 Ingredients – Serves 2 or 3
1 tub of The Precious Pod Organic Classic Houmous
1 large organic cucumber
1 large ripe organic avocado
1 lime
1 fresh chilli
1 red onion
A handful of organic cherry tomatoes
A small bunch of coriander leaves
A handful of mixed seeds
A handful of kalamata olives
White wine vinegar
Salt
Method
Chop the chilli, cherry tomatoes, onion and kalamata olives and set aside into small individual heaps.
Peel the skin off of your cucumber in stripes then slice it into inch long discs, scoop out the middles with your melon baller to create small bowls. Set aside the cucumber in a bowl of water, adding a dash of vinegar and a pinch of salt into it.
Take your avocado and mash it smoothly in a bowl, adding the juice of your lime. Then mix in 2-3 heaped desert spoons of our Organic Classic Houmous into the mashed avocado.
Drain the water off of your cucumber bowls and start filling them with the avocado and houmous mixture.
Toast your seeds in a pan till they are browned, then set aside.
Divide your cucumber bowls into two equal portions and sprinkle one half with cherry tomato, red onion and coriander and the other with kalamata olives, toasted seeds and chilli.
Find more about The Precious Pod and their incredible houmous here: thepreciouspod.co.uk