Charred Corn, Radish and Tomato Salad
"This seasonal summer salad make the most of juicy sweetcorn, sweet sun-ripened tomatoes and crispy radishes. I've paired this with a cumin and chilli dressing with lots of fresh herbs."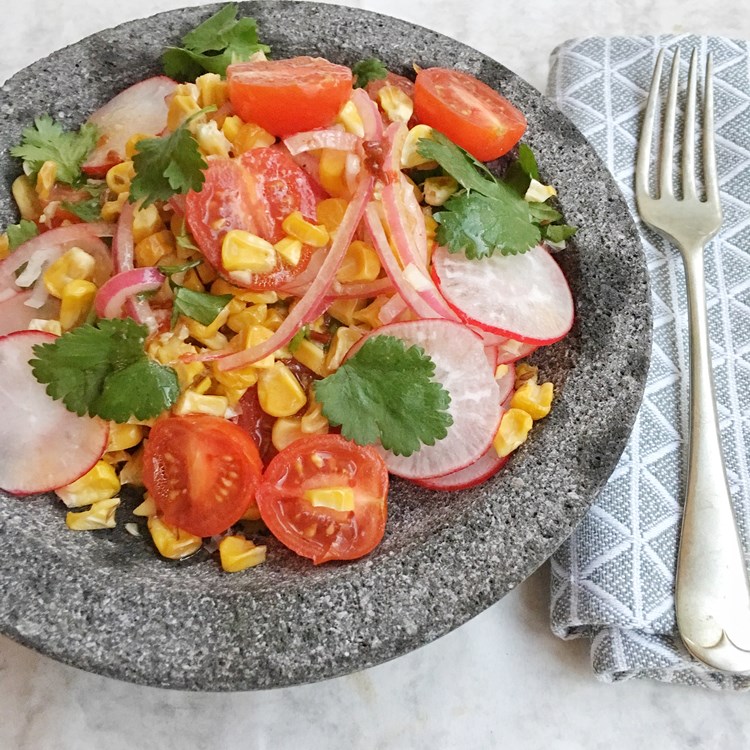 Ingredients - Serves 2 as a main meal and 4 as a side
For salad
2 cobs of sweetcorn
100g summer tomatoes, quartered
4 radishes, finely sliced
10g coriander, finely chopped
1 tsp cumin seeds
For quick pickled onions
2 red onions or shallots, finely sliced
50ml apple cider vinegar
½ tsp salt
½ tsp sugar
For dressing
6 tbsp extra virgin olive oil
Juice of 1 lime
1 clove of garlic, crushed
1 fresh jalepeno or chipotle chilli, finely chopped 
Method
Grill the corn on a barbeque or under a hot grill.
Remove the kernels from the cob and allow to cool.
Meanwhile, mix the vinegar, salt and sugar for pickled onions and mix with the finely sliced red onion.
Heat a dry pan and lightly toast the cumin seeds.
Mix the corn, tomatoes, radishes, cumin and coriander.
Remove the sliced onion from the pickling juice and add to the salad.
Add all the ingredients for the dressing in a jar, shake well and season.
Dress the salad and mix well.
Find out more about The Urban Kitchen here: theurbankitchen.co.uk