Warm up from the early autumn breeze with this Comforting Chicken Broth created by Daylesford Farm.
"There is little more nurturing when nursing a loved one than making them a bowl of chicken broth and the ritual involved could bear no stronger a symbol of love. Quick to prepare, this comforting chicken broth recipe from our NEW E-BOOK is a great example of a nourishing, wholesome meal which can be ready in a matter of minutes. A good chicken broth is now known to be anti-viral while its gentle effect on the immune system and airways brings instant comfort. We use watercress here for a high dose of vitamins K and D and have chosen garlic, leeks and chilli for their antiseptic properties too. Should you prefer to make this recipe gluten free, simply swap the pearl barley for nutritious quinoa or millet."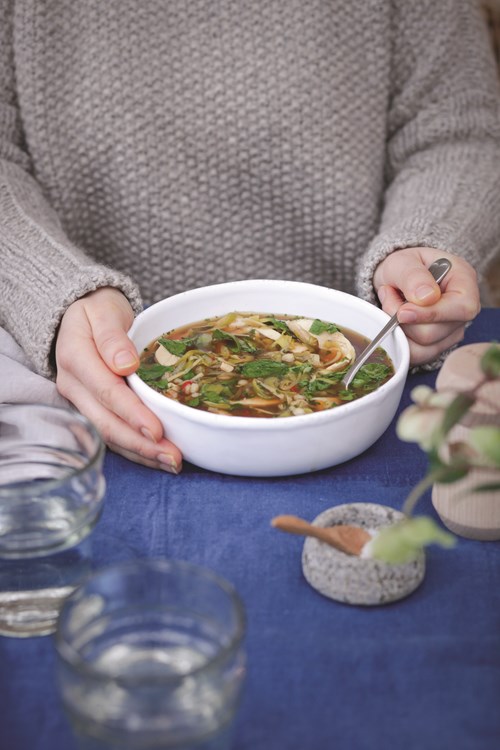 Ingredients - serves 2
1 large organic leek, finely sliced
2 cloves of organic garlic, finely sliced
1 ½ inch piece of organic ginger, peeled and finely sliced
1 organic red chilli, de-seeded and finely sliced
1 litre of organic chicken bone broth
100g cooked organic pearl barley, quinoa or millet
100g cooked organic chicken, shredded
handful of organic parsley leaves, roughly chopped
juice of ½ an organic lemon
1 tbsp 0rganic tamari soy sauce
2 handfuls organic watercress
Method
Heat a little oil in a large saucepan and sweat the finely shredded leek for 3-4 minutes until wilted but still bright green. Add the garlic, ginger and chilli and cook for another minute before pouring in the chicken bone broth.
Bring to the boil and simmer gently for 5 minutes before adding the pearl barley, shredded chicken and parsley. Bring back to the boil and simmer for a further minute to ensure the chicken and barley have heated through.
Add the lemon juice, tamari and watercress leaves, stir and taste to check the seasoning, adding a little more lemon or tamari to taste if needed.
Serve immediately, ladled into deep bowls.
At Daylesford, we've been farming organically for over 35 years. What began as a simple passion for real food and a desire to feed our children better has grown into Daylesford as we know it today, one of the most sustainable organic farms in the UK. Each step of our journey is made with a conscience, and a love for food.
Visit www.daylesford.com/seasonal-recipe-e-books/ for more seasonal recipe inspiration.