Blogger & designer Raw Vegan Blonde has put together her graphic & cooking skills to create this beautiful seasonal salad.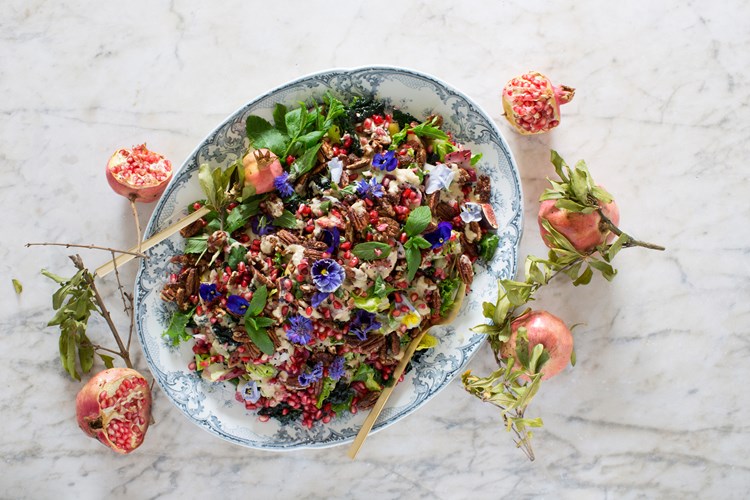 Ingredients
Salad:
3 figs
2 baby gem lettuce
2 head red chicory
3 ripe pears
1 pomegranate
8 stems of kale/cavolo nero
Juice 1 small lemon
1 tsp extra virgin olive oil
1tsp nigella seeds
Small bunch mint
Pecans:
150g pecan nuts
1 tsp maple or coconut sugar
½ tsp cayenne pepper
pinch salt
Dressing:
2 tbsps tahini
2 tbsps white miso
2 tbsps lemon juice
2 tbsps sesame oil
2 -3 tbsps hot water
Thumb-sized piece fresh ginger
Salt and pepper
Method
Pecans:
Heat a large sauté pan over a medium heat and add the pecan nuts. Toast them very gently and shake over the salt, sugar and cayenne pepper and stir to coat the nuts. Continue cooking until the sugar melts and turns a golden brown. Remove from the pan and allow to cool.
Dressing:
Peel and finely grate the ginger and whisk together with the tahini, miso and hot water then add the lemon juice and finally gradually whisk in the sesame oil. Season to taste and add a small pinch of sugar (coconut or maple) if needed.
Salad:
Remove the seeds from the pomegranate by first halving the fruit, holding cut half in a cupped hand with the skin facing up and then bashing the back of the skin with a rolling pin to dislodge the seeds (it's best to do this over a bowl and then pick out any white pieces of membrane and retain the juice)
Break the kale into bite size pieces and place in a large bowl. Pour over the lemon juice, olive oil and salt and massage the kale until wilted and silky. Tear the chicory and little gem into bite-sized pieces and add to the kale. Cut the figs into quarters (or smaller) and add to the bowl of leaves with the pomegranate seeds. De-stem, core and halve the pears and gently crush with a rolling pin or the ball of your hand and add the pieces to the other ingredients. Pour over any pomegranate juice and mix lightly with your hands to combine.
Tip the salad out onto a serving platter, drizzle with the dressing and scatter over the nigella seeds, a few whole mint leaves and the candied pecans.
Find more of Amber's recipes and have a look at her amazing design work here: ambaliving.com