These Chocolate Maca Pancakes from Rainforest Foods and Charley's Health are a great twist on traditional pancake recipes. They are rich and chocolatey, without the added sugar normally found in chocolate recipes.
This flavour is achieved using cacao, the key ingredient in chocolate that has been hidden behind large amounts of fat and sugar for centuries. In recent years pure cacao has become a popular addition to a healthy diet, mainly due to its high antioxidant levels.
This recipe also uses maca, a Peruvian root that is popular amongst athletes and which is known for enhancing strength, stamina and libido.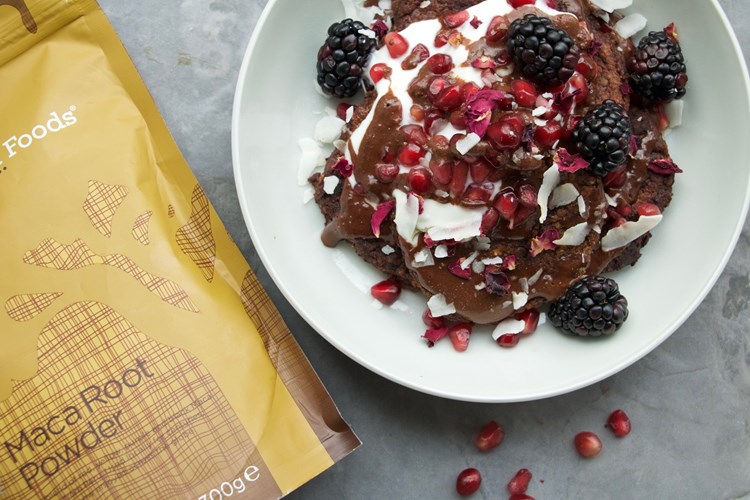 Ingredients:
Pancakes:
1 banana 
1/2 cup oats 
1/2 tsp baking powder
1/4 cup almond milk 
1 tbsp flax mixed with 2 tbsp water 
Toppings:
2 tsp brown rice syrup 
Splash of almond milk 
Chocolate chips and berries 
Method:
Add all of the pancake ingredients into your blender and blend until smooth. 
Heat a little coconut oil (or oil of your choice) in a frying pan and once the oil is nice and hot, pour a little of the mixture into the pan. Once the pancake starts to bubble, flip and cook on the other side. 
Repeat this until all of the mixture is used up. 
To prepare the sauce, mix the cacao with rice syrup and add in a splash of almond milk to help create a pourable consistency. 
Serve the pancakes with fresh fruit, the chocolate sauce and some extra chocolate chips or cacao nibs if you fancy it.
Enjoy!