Foraged Mushroom Linguine
Mushroom season is starting! This is the perfect time to try this autumnal easy recipe created by Daylesford. 
"When the autumn leaves start to fall, the damp mossy woodland around our farm comes alive with delicious wild mushrooms. We truly believe that there is no better way to celebrate their earthy flavours than with generous doses of organic butter, garlic, salt, pepper and fresh herbs – just as we have done in this recipe over our organic pasta."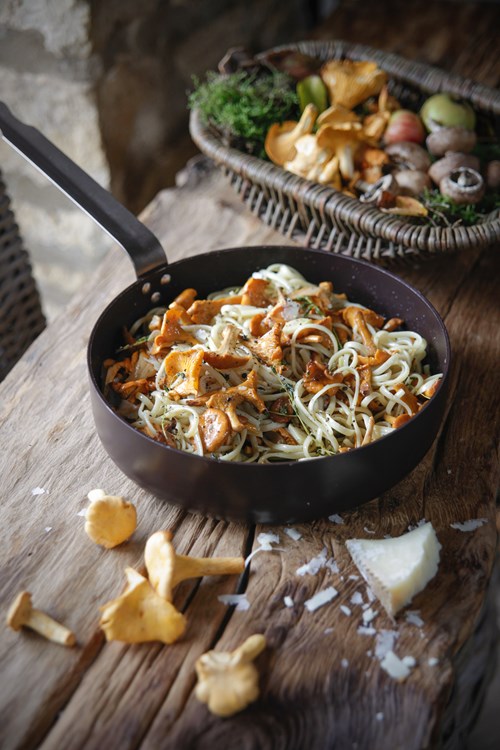 Ingredients - serves 2
300g organic linguine or spaghetti
100g organic butter
3 cloves of organic garlic, finely sliced
4 sprigs of organic thyme, plus extra to garnish
200g foraged organic mushrooms such as chanterelle, ceps or puffballs
Juice of ½ an organic lemon
Organic sea salt and black pepper
Method
Bring a pan of salted water to the boil and add the linguine. Cook the pasta in a pan with a little salt for 6-8 minutes or until al dente.
Whilst the pasta is cooking, place a large frying pan over a high heat. Add the butter, garlic and thyme sprigs and fry for a minute or so until the butter has turned slightly golden and is foaming.
Add the mushrooms to the pan and sauté for 2-3 minutes until they are evenly coated in the butter and just tender.
Remove the stalks of thyme, add the lemon juice and a generous sprinkling of seasoning and toss together.
Drain the pasta and return to the pan, tossing through a generous glug of olive oil. Tip the mushroom and brown butter mixture into the pasta and toss together really well to evenly combine all of the ingredients.
Taste to check the seasoning and serve with our freshly grated single Gloucester cheese or parmesan and a sprinkling of chopped parsley.
At Daylesford, we've been farming organically for over 35 years. What began as a simple passion for real food and a desire to feed our children better has grown into Daylesford as we know it today, one of the most sustainable organic farms in the UK. Each step of our journey is made with a conscience, and a love for food.
Visit daylesford.com/to find their products.