Baked Aubergines with Cumin and Lemon
Tom Hunt shares a delicious way to prepare aubergine and use if for a creamy baba ganoush:
"This is a simple way to prepare aubergines with little preparation. It tastes amazing turned into pasta or as an antipasti with rare beef or even just spread on toasts."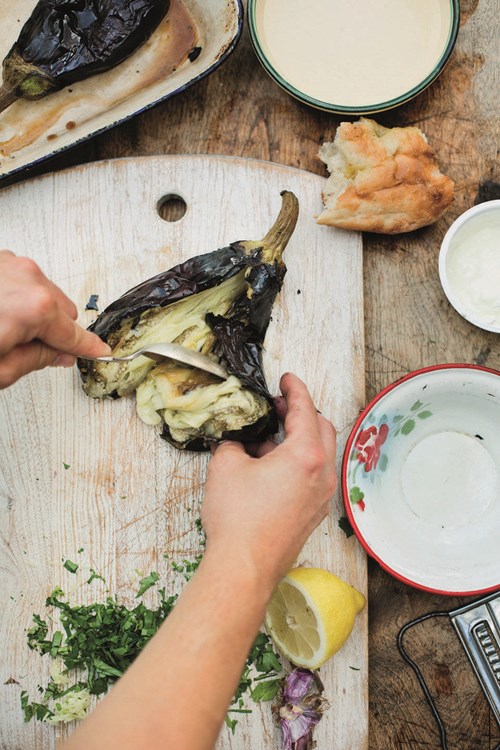 Ingredients
 2 Aubergines (about 500g),
pinch cumin seeds,
1/4 lemon
Method
First char your aubergines whole on a BBQ, griddle or open gas flame. Allow each side to blacken. If using a BBQ, after charring the aubergine on a high heat move the aubergine to a cooler part of the BBQ and leave for another 20-30 minutes until it becomes soft. If using a griddle or gas flame, once charred move the aubergine to an oven preheated to 170C and bake for 30-40 minutes. Make sure that your aubergine is completely soft and cooked right through. Allow to cool a little then scrape out all the flesh into a bowl. Discard the burnt skin. Season and serve as a salad with a pinch of toasted cumin seeds and squeeze of lemon.
Baba ganoush
This is one of my favourite recipes of all time. Baba ganoush must have a smokiness to it. This is created while scorching the aubergines. Often baba ganoush is intensely rich and creamy, this is a lighter version which uses yoghurt to lighten the flavour.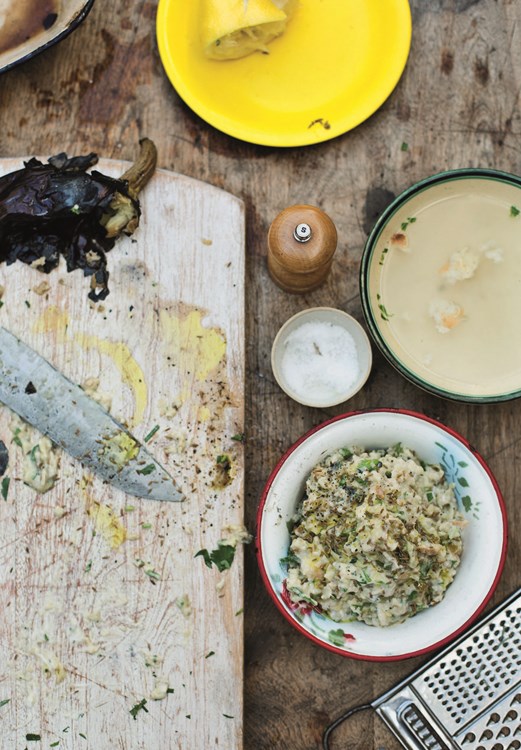 Ingredients
Makes 4-6 servings
1 quantity of baked aubergine
1/2 slice of stale bread
1 clove garlic, grated
2 dessert spoons thick yoghurt
A good glug of olive oil
1/2 lemon, juiced
A pinch of cumin
A few stalks of coriander or parsley, chopped roughly
Method
Chop the whole baked aubergine by hand till its almost a puree, but still has some texture.
Soak the bread in water for a few seconds till it's soft, then squeeze it dry. Add to the aubergine.
Now add the rest of the ingredients, mix and season then adjust the flavours to your taste. I like a lot of lemon in mine.
Serve cold with flatbread as a starter or part of a meze.
Storage: Baba ganoush keeps well for four days in the fridge.
More recipes and variations
Baked aubergines with chermoula. Follow the recipe to BAKED aubergines but don't scrape the flesh out. Meanwhile make the chermoula (page 00). Cut the aubergines into two halves. Spread a good dollop of chermoula onto each half and serve hot or cold. - Maybe tie in the intro from the chermoula recipe to refer to this.
Babbaganush with beef carpaccio. Thinly slice a fillet steak and lay on a plate with blobs of babbaganush and dress with lemon juice and olive oil.
Follow @tomsfeast on instagram