Blackened Organic Salmon Steaks
There is nothing like a generous rub to add extra flavour to your barbecue fish and meat. This recipe from Seasoned Pioneers uses a Cajun technique and organic ingredients for maximum flavour: 
"Blackening is a Cajun cooking technique, combining oil & spices to create a tasty dark coloured crust on grilled or barbecued meats and fish. Seasoned Pioneers Organic Cajun Blackening is the perfect rub for salmon steaks at a summer barbecue.
It is the traditional Cajun 'blackening' blend, having a salty garlic flavour with rich pepper and spice notes. Yes, it's a spicy blend but you can be generous with it as it beautifully complements the subtle flavour of fresh salmon.
Alternatively, it works wonderfully on organic chicken, steak or other fish – just rub it on with a little oil and cook!"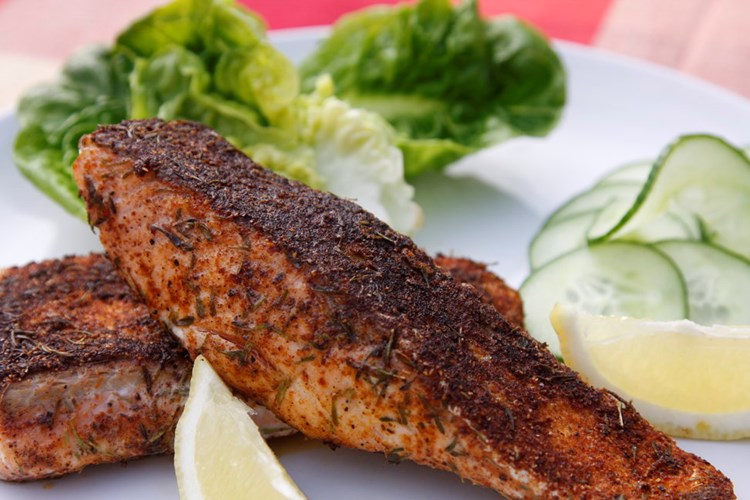 Ingredients
4 organic salmon steaks
1 to 2 tablespoons organic olive oil
2 tablespoons Organic Cajun Blackening
Juice of a lemon
Method
Perfect for the barbecue, this is an easy recipe which would also work well with organic chicken, steak or other fish.
Coat the salmon steaks with the oil and rub on the Organic Cajun Blackening – we find it easiest to do this in a shallow dish. Make sure each steak is well coated in the spice mix.
Place the steaks on the barbecue or under the grill but make sure to cook the skin side first until it 'blackens', then carefully turn them over and cook on the other side until they are 'blackened' and the steaks are cooked through.
Squeeze over a little of the lemon juice and serve. Delicious with salads and baby jacket potatoes finished on the barbecue.
Recipe kindly shared by Seasoned Pioneers