Boil sweet corn for a easy and quick snack. Then use one of the cobs to make this tasty sweet corn fritter recipe by Tom Hunt:
Boiled sweet corn with butter is the simplest and best way to eat sweet corn.
 2 large Abel & Cole cobs sweet corn
50g butter
Bring a large lidded pan of salted water to a rolling boil. Remove the husks and ears from the corn and add to the pan with the lid on top. Boil for 10-12 minutes. Remove the corn and smear with butter. Serves 2.
Sweet Corn Fritters
These are remarkably good, a great moreish snack or appetiser. I like mine with chilli sauce but it does cover the sweetness of the corn.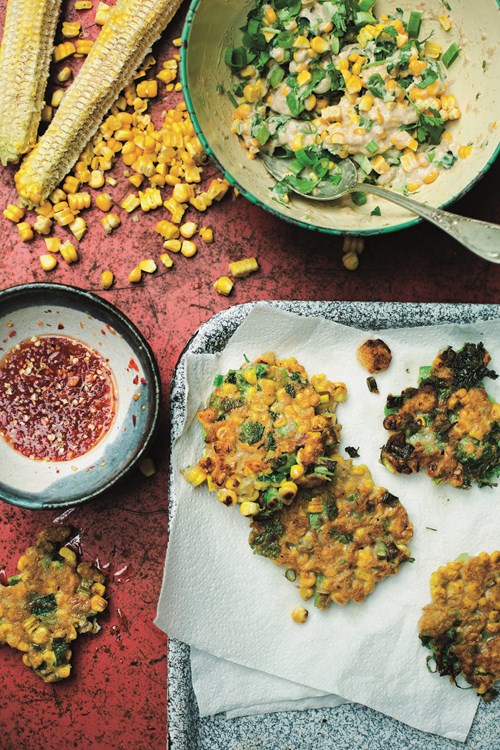 Image: Laura Edwards
Ingredients - Serves 4
1 quantity of boiled Abel & Cole sweet corn (without butter)
150g Doves Farm spelt or wholemeal flour (Tesco)
100ml water
1 Tesco Organic egg
1/2 tsp baking powder
Salt and pepper
4 Waitrose Duchy spring onions, finely sliced from top to bottom (Ocado)
6 sprigs coriander, stalks finely leaves roughly chopped
Rapeseed or canola oil for frying
Going organic doesn't need to break the bank - you can prepare this recipe for 4 people for just £5.55 (based on prices on 7th Sep 2017).
Method
Boil the corn following the recipe above. When cooked refresh it by running it under cold water till it cools down. Cut of the kernels side by side and break them up into individual pieces.
Mix the flour, water, egg, baking powder, salt and pepper together to make a thick batter. Add the spring onions, coriander and sweet corn to the batter and mix.
Heat a heavy based frying pan or skillet to a medium heat with a glug of oil. Fry spoonfuls of the fritters, flattening them out a little with the back of the spoon. When they are golden brown flip them over and fry the other side.
Serve with your favourite chilli sauce or sour cream .
 Storage: The fritters will keep for 3 days in the fridge in a sealed container. Reheat in a 180C preheated oven for 12 minutes till hot right through to serve.
Cook's Notes and variations
Cut the kernels off two boiled sweet corn cobs. Dice a small onion and chilli and put them in a saucepan with 80g sugar, 1tsp salt, and 100ml cider vinegar. Bring to the boil and simmer for 10 minutes. Mix 1tbsp of spelt or wholemeal flour with a dash of water to make a paste. Stir the flour and sweet corn into the vinegar and boil for a further 5 minutes. Pour into sterilised jars and keep in the fridge for 2-3 weeks. Particularly nice served with burgers.
Bean and coriander salad. Cut the kernels off two boiled sweet corn. Drain a can of kidney beans and mix with the kernels. Add three sprigs of chopped coriander a dash of extra virgin olive oil, splash of red wine vinegar and some seasoning.