Lemon Cacao & Cashew Cheesecake
If you fancy an sweet treat, Raw Halo have got your craving sorted with this fantastic cheesecake.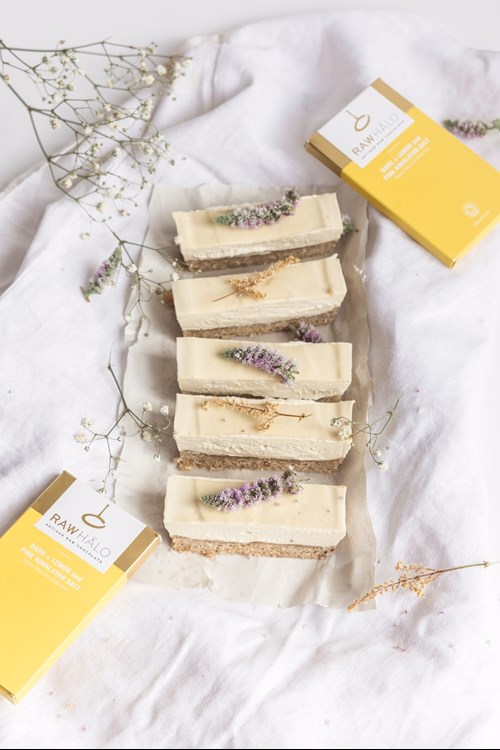 Ingredients
Base:
1 cup mixed nuts (e.g. hazelnuts, walnuts, almonds & cashews)
1 cup desiccated coconut
1 cup pitted dates
5 chilled Raw Halo Dark + Lemon and Pink Himalayan Salt raw chocolate bars
Zest of 1 lemon
Cheesecake:
1 ½ cups soaked & activated cashew nuts
¼ cup fresh lemon juice
Zest of 1 lemon
¼ cup melted cacao butter
¼ cup maple syrup
½ teaspoon sea salt
400ml coconut milk
Topping:
Raw Halo chocolate drizzled!
Method
Begin by soaking the cashew nuts for the base for roughly 4 hours, or overnight. This will activate the nuts and aids digestion.
Add the mixed nuts & desiccated coconut to a food processor and mix until you have a dry sandy texture.
Add in the pitted dates, lemon zest and shave the chocolate in to the food processor. Mix again until combined.
Line your cheesecake tin with cling-film and add the base mixture. Smooth with your hands into the corners to achieve an even layer and refrigerate.
To make the cheesecake filling, begin by slowly melting the cacao butter on a low heat in a bain marie.
Add the cashew nuts, lemon juice, lemon zest, maple syrup and salt to the food processor and mix.
Once combined, add in the melted cacao butter & coconut milk and mix until you have a creamy texture.
Take the chilled base out of the refrigerator and pour over the cheesecake filling. Smooth out with a spatula until there is an even covering.
Freeze for around 4 hours before serving and then store in the fridge.
Find more about Raw Halo here: rawhalo.com