Superfood Chilli Sin Carne
The perfect, warming, vegan bowl of chilli for a cold winters' evening.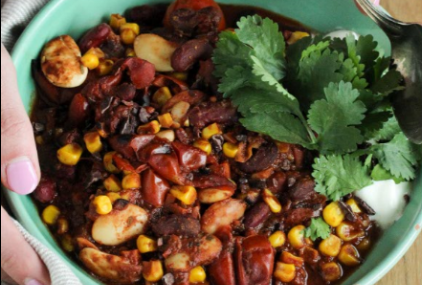 Ingredients
1 garlic clove, finely sliced
1/2 onion, finely sliced
1tbsp coconut oil
1tbsp tomato paste
3tbsp cumin
3tsp pimiento dulce
1tsp chilli powder
2tbsp oregano
2tbsp Of the Earth cacao powder
salt & pepper
1 cup chopped carrots
800g tinned cherry tomatoes
1 cup sweetcorn
2tbsp Of the Earth cacao nibs
400g cannellini beans
400g black beans
400g kidney beans
1tbsp coconut sugar
To serve
Method
1. Gently sautee the finely sliced garlic and onion in a little coconut oil for around five minutes. 
2. Now add all the spices. Let simmer for a couple of minutes before adding the tomato paste and chopped carrots. Stir once more and let simmer for a further ten minutes. 
3. Finally add the remaining ingredients giving it a good stir, ensuring everything is well combined. Gently cook for a further 15 minutes. Season to taste with salt and pepper. 
4. To serve simply ladle into individual bowls with brown rice, coconut yogurt and garnish with a handful of coriander leaves.