If like Shiso Delicious you're fond of plant-based food, add this delicious onigiri to your organic lunch box.
"For me, choosing organic is one of the easiest ways to support a future I would like to see for our earth, soil and animals. Of course, it's also about eating tastier, more nutritious produce ourselves! Growing up I had lots of food allergies, mostly towards fresh fruit and vegetables. While working in an organic vegetable shop I was amazed to see most of them clearing up. I didn't need any convincing organic was better after that!"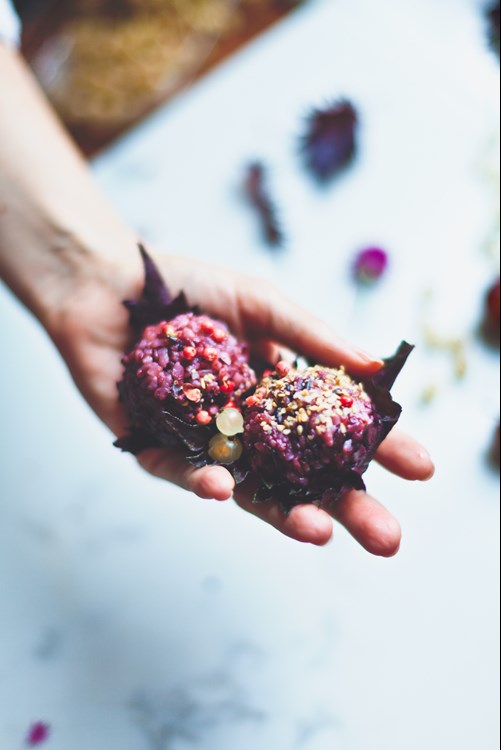 Ingredients – Serves 2 or 3
200ml (220g) white sushi rice
50ml (40g) Venus black rice
400ml water to cook
2-inch piece of kombu (optional, adds umami and minerals)
2 sheet nori seaweed cut in 8 short strips, or 16 shiso leaves or big basil leaves
3 tablespoons sesame seed
1/2 teaspoon good quality salt
Extra salt for shaping balls
A few pink pepper corns
Method
Wash your rice: Massage the rice in water to wash off starch then drain. Repeat three times, drain completely.
Add rice, water and kombu to a cooking pot. Allow to soak 20 minutes if possible.
Bring to a boil on medium heat, tightly covered. When boiling, bring to lowest possible and simmer for 15 minutes. Without removing lid, remove from heat and let cool slightly. If you used kombu, you can take it out of the rice, cut it in tiny squares and mix in back in with the rice. The rice is ready to use when there's no visible steam coming off it.
Cut each nori sheet into 8 pieces.
Make sesame salt: Dry-toast the sesame in frying pan then crush it with the salt. You can use a pestle and mortar or just a wooden spoon against a cutting board.
Wet your hands and dab some salt on your palms to season the rice. Grab a heaped tablespoon of rice and gently but firmly press into a ball rather than roll. Wrap with a strip of nori or a leaf. Dip into the sesame salt and add a few pink pepper corns here and there.
Tip
If you don't have time to shape balls, just pack the rice into your bento box and sprinkle generously with sesame salt. Finish by covering the rice with a large piece of nori.
Find more about Shiso Delicious and try more of her recipes here: shisodelicious.com - Instagram: @shisodelicious
Join Shiso Delicious' Beno Intro workshops here.