Roast Potatoes, Pesto and Puttanesca
Here's a tasty, easy veggie 
dish

 
created by Rebel Recipes.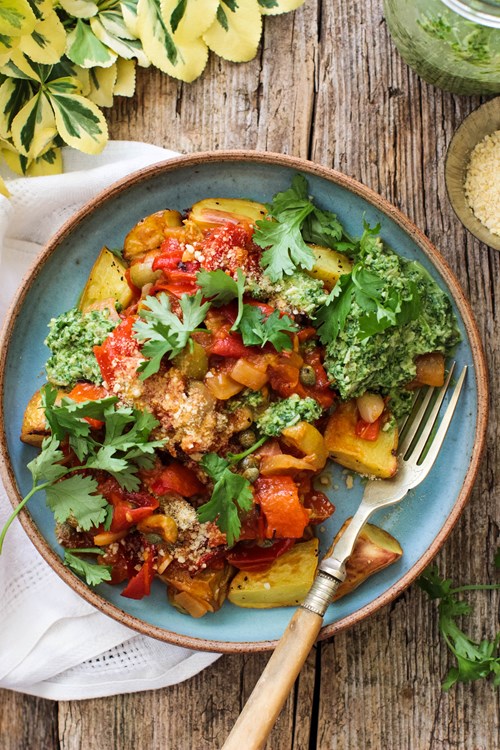 Ingredients
Roast potatoes
400g organic new potatoes
1 tbsp olive oil
1 tsp garlic powder
Sea salt – 1/2 tsp
Handful fresh rosemary
Puttanesca sauce 
1 organic onion chopped 
2 tbsp olive oil 
3 cloves garlic sliced 
2 organic red peppers chopped 
6 organic tomatoes chopped 
1/2 cup water 
4 tbsp olives 
2 tbsp capers 
1 tsp Salt 
Twist black Pepper 
Kale pesto
4 big handfuls of organic kale washed 
4 tbsp nutritional yeast 
2 tbsp olive oil 
Juice 1/2 lemon 
2 cloves garlic 
6 tbsp organic pumpkin seeds 
Black pepper 
1/2 tsp salt 
5 tbsp water 
Method
To roast the potatoes; 
Pre heat your oven to gas mark 5 (190C).
Add the potatoes to a roasting tray (I cut some of the larger ones in half) then toss to coat them on olive oil, garlic powder, salt & fresh rosemary.
Roast for approx 40 minutes until crispy on the outside.
To make the puttanesca sauce;
Add the olive oil & onion to a large frying pan and heat to a medium heat. Fry for approx 8-10 minutes until soft and browning.
Add in the garlic and stir for another few minutes, then add in the chopped tomatoes and red peppers. 
Add the water then simmer for 30 minutes. Season with salt, pepper & add in the olives and capers. 
To make the pesto; 
Add all the ingredients to your food processor or high speed blender and blitz until everything is combined to the texture you prefer.
You may need to scrape the sides down a few times.
Find more about Rebel Recipes here: rebelrecipes.com