Festive Purple Sprouting Broccoli Roast
Despite its clumsy name, the distinctive slender stalks of purple sprouting broccoli makes an elegant addition to winter dishes, providing a beautiful splash of rich colour and great taste.
This recipe from Gill Meller roasts the broccoli in a luxurious mix of double cream, white wine, garlic and anchovies.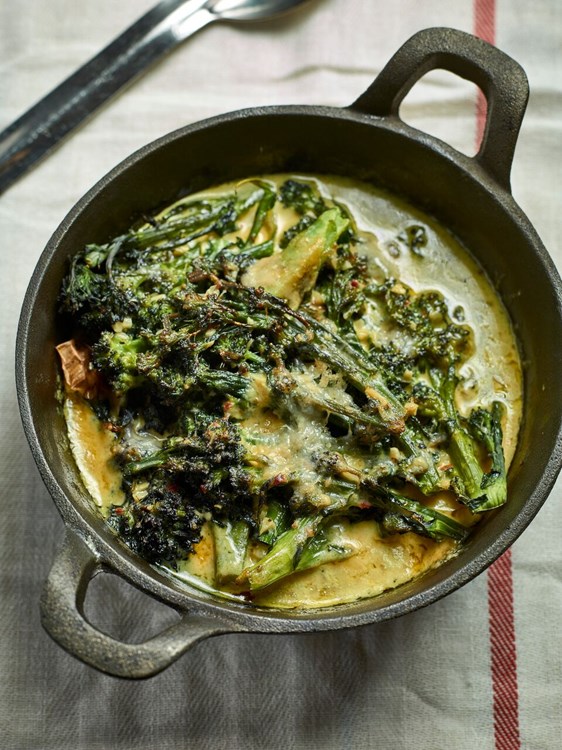 Ingredients
Half a kilo of purple sprouting broccoli
Splash of olive oil
A splash of white wine
400ml double cream
4 cloves of garlic
2 dried chillies
6-8 anchovy fillets
2 sprigs or rosemary
100g parmesan
Method
Peel and slice the garlic (you want fairly thin slivers). Deseed and chop the chillies.
Set a medium sized heavy based pan over a medium heat.
Heat the olive oil. Throw in the garlic, chilli, rosemary and anchovies.
Fry until the garlic takes on a little colour – a golden tinge around its edges.
Add the wine , boil for a few seconds and add the cream.
Bring to a simmer and turn the heat down. Reduce this sauce until thick enough to coat the back of a spoon.
Trim, wash and blanch the purple sprouting broccoli in boiling water for 1 minute before straining through a colander. Allow to steam dry.
Lay the broccoli in an oven proof dish, pour or spoon over the cream sauce and finally scatter over the parmesan.
Bake in a pre-heated (190°C) oven for 10-12 minutes until golden and bubbling.