This delightful Merry Berry Tart makes a perfect addition to any festive Christmas table. 
Suitable for those who are vegan and gluten free, it's also free from refined sugars and contains a nutritiously dense superfood powder that takes this tart to the next level.  Provided by Inspiriko, the author of this delicious recipe is the aspiring chef Arpita Venugopal.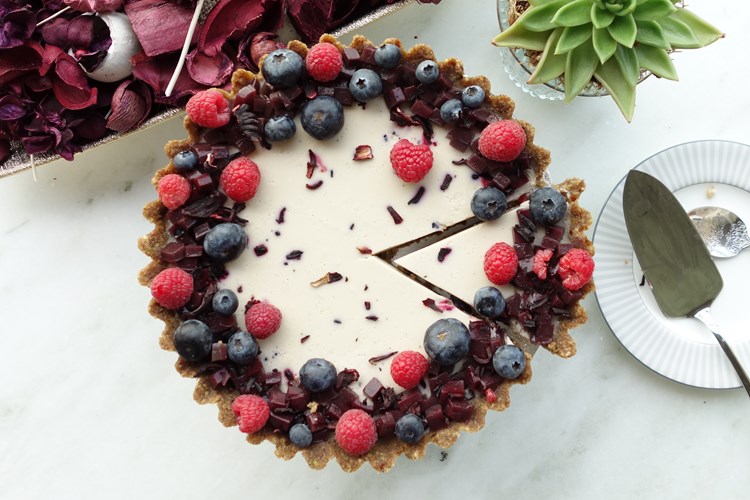 Ingredients
For the crust:
272g almond flour
136g raw cashew nuts
136g raw pistachios
1/4 cup flax seed powder
80ml water
1/2 teaspoon salt
1/2 teaspoon cinnamon
10 medjool dates
1 tablespoon coconut oil
1 teaspoon vanilla
For the filling:
240ml plant milk
240ml coconut cream
120ml maple syrup
1.5 tbsp agar flakes
1 tsp vanilla essence
For The jelly:
For garnish:
Mixed berries
Edible flowers
** You can use any combination of nuts as long as you keep the proportions correct.
** You can use half rice flour and half almond flour.
Method
Add all the ingredients for the crust into a food processor. Pulse while adding water gradually until the mixture forms a tough, dough-like consistency. Use less water if the dates are very moist.
Empty it into a tart pan greased with coconut oil and spread out evenly, pressing against the base and walls. The crust should be roughly 1 cm of even thickness.
Add all the ingredients for the filling into a saucepan and stir well. Transfer to heat and bring to boil while stirring occasionally. Allow to simmer for 2 minutes before turning off heat.
Let the filling cool for about 5-7 minutes and pour onto the prepared crust. Set aside for at least 30 minutes while you move on to the toppings.
Mix the water, superfood powder, maple syrup and agar flakes well. Transfer to a saucepan and cook until mixture comes to a boil. As previously, simmer for 2 minutes and remove from heat. Pour into a medium sized square tiffin box to set, such that you have a 0.5 cm thick layer. Once this is firm to touch, about 30 minutes, carefully score the edges and invert on a clean chopping board like inverting out a cake. Cut the entire block into very small cubes.
For assembly, arrange the cubes in a concentric fashion, parallel to the tart's edges. Top with fruits and flowers. Serve cold with more fruits.
** You can pour the jelly mixture directly over the filling and allow to set on the tart for a different look and ease of preparation. You will see nice layers when you cut the tart.