Organic Beef & Dairy Cows
The highest standards of animal welfare
Organic farming systems have the very highest animal welfare standards. Organic standards over living conditions, food quality, transport and slaughter.
At the Soil Association, we work closely with our dairy farmers to ensure that all organic cows benefit from these high standards.
We also have close links with animal welfare organisations – such as the RSPCA and Compassion in World Farming – to develop and promote higher animal welfare standards across the whole of the farming sector.
Truly free-range
Unlike many other farming systems, organic cows spend much of their lives outdoors where they can graze naturally on a diet of grass and clover. On average, organic cows spend, 215 days per year outside, which is more time outdoors grazing than the average amount of time spent outdoor grazing by 'free-range' cows.
Keeping cows indoors all their lives is banned under organic standards. When they go indoors because of bad weather, all cows must be housed in well-bedded spacious yards. 
What makes organic different? 
Free-range - By law, cows must be at pasture whenever conditions allow, over 200 days on average
Fewer pesticides & no artificial fertilisers used on pasture
Cows fed a grass-rich, GM-free diet (minimum 60% grass-based)
Routine antibiotic usage banned
No system of farming has milk with higher levels of nutrients, e.g. Omega 3 fatty acids
No system of farming has higher wildlife benefits


Organic dairy cows are generally not pushed to their milk-producing limits in the same way other cows can be.  Average yields in organic milk production are around 20% less than in intensive production.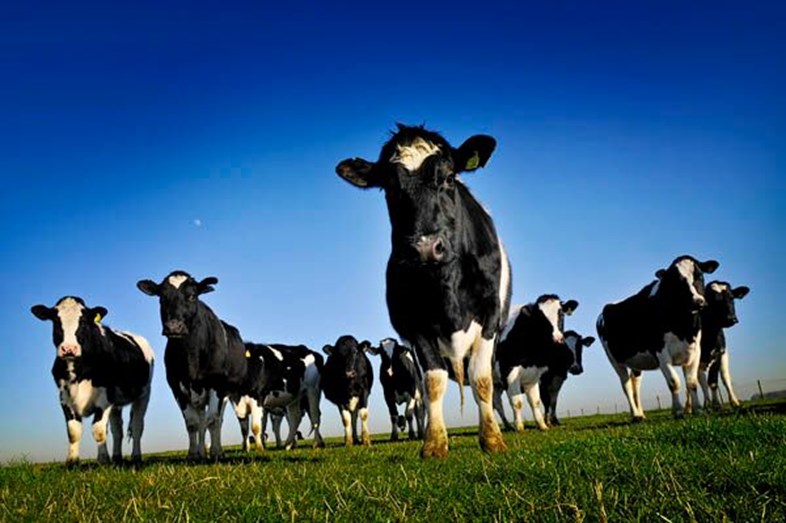 "Organic cows are fed a diet free from artificial additives, chemicals and genetically modified ingredients, and the routine use of antibiotics in the organic system is banned."
Organic through and through
Organic beef and dairy cows eat a 100% organic diet. Soil Association farmers must always feed their cattle at least 60% fresh or dried fodder, roughage or silage on a daily basis. 
Most non-organic British chickens, pigs and cows are fed with imported GM crops. GM animal feed is banned under organic standards.
No routine use of antibiotics
Use of antibiotics remains more than twice as high in animals as humans. Soil Association standards ban the routine use of antibiotics and organic, free-range systems encourage healthy animals avoiding the preventative use of antibiotics.
The use of growth hormones to increase milk production is banned in the European Union, and organic farmers are permitted only to treat animals with antibiotics when they are actually sick, not as a routine, preventative measure.
We also know that high welfare, pasture-based systems have reduced rates of infection and so less need for antibiotics in the first place.
Become a Member

Join the community of thousands fighting to transform food and farming - we must act now to protect our health, our natural world, and our climate.

Join us