What's the Campaign About?

About Neonicotinoids
How do neonicotinoids work?
Neonicotinoids work as an insecticide by blocking specific neural pathways in insects' central nervous systems, causing disorientation, inability to feed and death.
How do bees and other wildlife become exposed?
These insecticides are supposed to be more targeted than non systemic pesticides. One might think that would prevent them from contaminating both the countryside and beneficial wildlife, but that's not the case:
Because they are systemic, these insecticides are taken up into every part of a growing crop. This includes small amounts in the pollen and nectar of flowers – where bees and other pollinators can become exposed to small doses. Whilst these aren't usually enough to kill outright, they are enough to affect the ability of these insects to survive.
The majority of these chemicals leach out of plants and seeds into soil and water. Nearby wild plants take them up and become toxic. Despite the partial ban, this is still happening on thousands of hectares of our countryside, as cereals like wheat are still being treated.
Even when an animal isn't exposed directly to a neonicotinoid, they can be affected. There is evidence that many bird populations may be crashing as a result of lack of food – due to the loss of insects harmed by neonicotinoid contamination in water courses [1].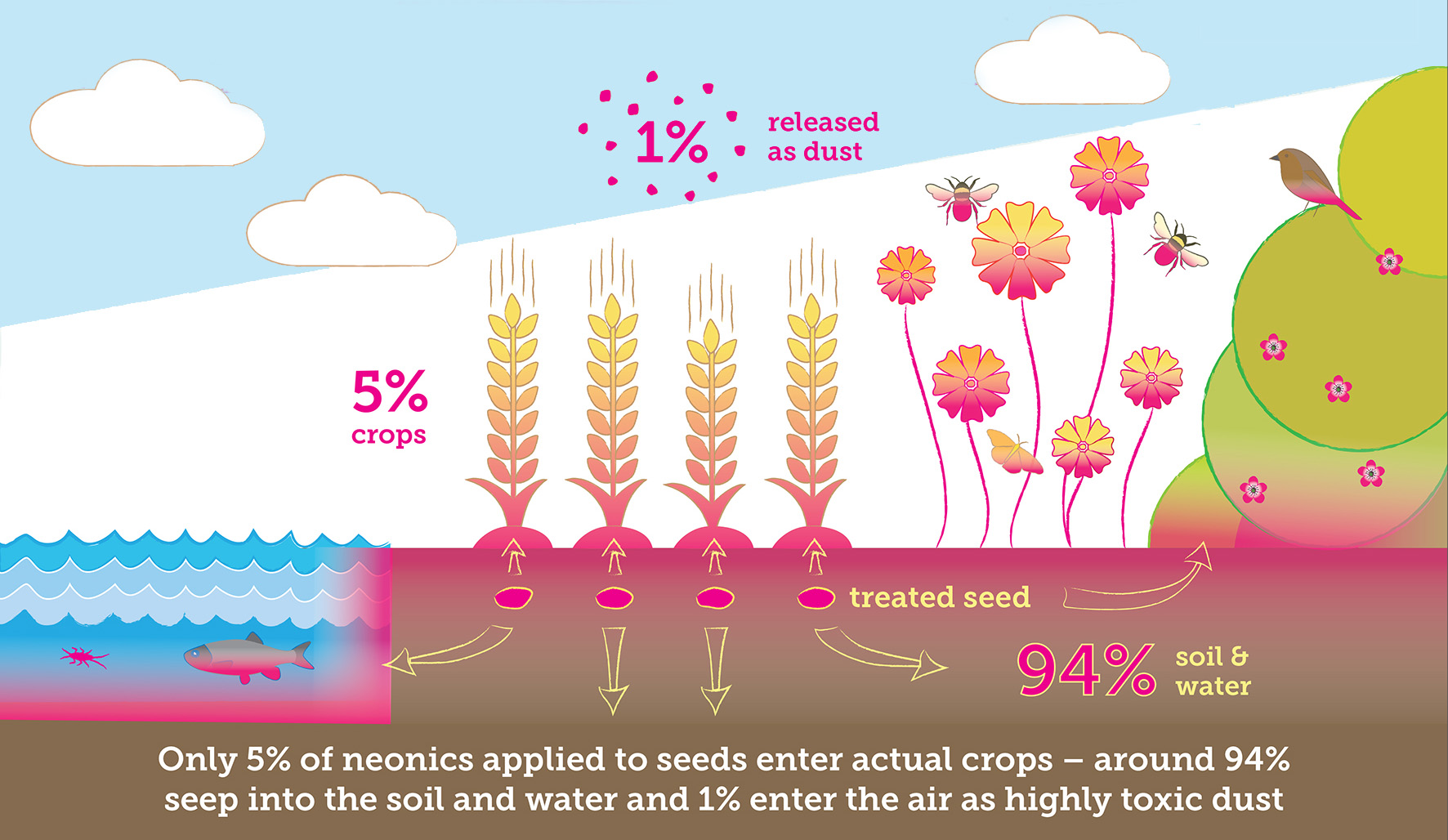 A pesticide cocktail in our countryside
Pesticide approvals are largely based on safety tests of individual pesticides But farmers don't apply just one spray on a farm – they apply many; insecticides, fungicides, herbicides and more. So we wanted to know if UK wildflowers were being contaminated not just with neonicotinoids, but multiple pesticides—exposing our bees and other wildlife to a pesticide cocktail.
Thanks to the Roddick Foundation, the Soil Association part-funded research by Sussex University to investigate the presence of pesticide cocktails in UK wildflowers.
The researchers focussed on wildflowers growing nearby crops treated with neonicotinoids. The researchers also tested the pollen collected by honeybees and bumblebees to see if these pesticide cocktails were making it back to their nests.
What did they find?
The researchers found multiple pesticides, not only neonicotinoids, contaminating the pollen of wildflowers growing near neonicotinoid-treated crops. They also found mixtures of pesticides in pollen collected from bumblebee and honeybee nests, so we know our bees are being exposed to these pesticide cocktails. There has been almost no research on the effect of these mixtures, but some previous research suggests they may be 1000 times more toxic than neonics alone.
This study proves that the current partial ban on flowering crops only is not working [2]. The researchers found neonics and other pesticides contaminated wildflowers growing near treated wheat. Wheat and other cereals are not included in the partial ban.

It is clear that insects visiting wildflowers in field margins are chronically exposed to a cocktail of chemicals. The effects that this has on their health have never been studied, and there is an urgent need to do so. In the meantime, the precautionary principle would suggest that we should take steps to reduce this exposure as much as possible. Professor Dave Goulson, Sussex University
What happens now?
A few years ago, evidence was mounting linking neonicotinoid insecticides to declining numbers of bees. Against the wishes of the UK government, this led to a temporary EU wide ban on the use of three of these insecticides, though on flowering crops only. Since the start of the partial ban in April 2013, the evidence against neonicotinoids has become stronger, and more severe.
These insecticides are still poisoning our countryside – getting into soils, wildflowers, hedgerows, streams and trees near to treated crops. This includes wildflowers, shrubs and trees next to crops like wheat and barley, which are still allowed to be treated with these chemicals.
All aquatic, soil living, leaf eating, sap sucking and nectar feeding insects are at risk – and so therefore are all our farmland birds and other animals that eat them. Worse still, Soil Association funded research has found that wildflowers near to treated crops are contaminated with a whole cocktail of pesticides, which earlier research shows could drastically increase the toxicity of neonicotinoids.
Click here to see our full infographic about how neonicotinoids are harming our land and wildlife
---
References
Hallmann, C. A., Foppen, R. P. B., Van Turnhout, C. A. M., De Kroon, H., & Jongejans, E. (2014). Declines in insectivorous birds are associated with high neonicotinoid concentrations. Nature, 511. https://doi.org/10.1038/nature13531
David, A., Botías, C., Abdul-Sada, A., Nicholls, E., Rotheray, E. L., Hill, E. M., & Goulson, D. (2016). Widespread contamination of wildflower and bee-collected pollen with complex mixtures of neonicotinoids and fungicides commonly applied to crops. Environment International, 88, 169–178. https://doi.org/10.1016/j.envint.2015.12.011
Last edited: 6th June 2017
Find out more
Become a member
Join us today, and together we can create healthy farmland and countryside without these poisonous pesticides.
Join us