Make your own compost
How to make your own compost
You will come to think of compost as gold when you can see what wonders it can do for your soil.
Well-made compost is a great source of organic matter. Added to the soil or to container plants, it will boost biological activity, suppress disease and result in stronger, healthier plants with better yields. And, a compost heap is an excellent way of processing all the organic waste that is generated through the year. Here's our easy guide with tips on how you can make your own compost at home.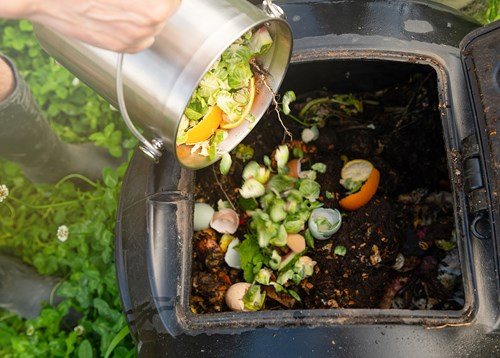 Equipment
Well-rotted compost can be made in a simple covered heap, turning it backwards and forwards every couple of months so that the materials mix well and the bugs can get to work. This can be a little messy, though, so in small gardens, allotments, or urban situations, it makes sense to have a contained compost heap. There are many commercial ones, or you can easily make one from old pallets or other reclaimed wood. To make a pallet compost bin, simply take three wooden pallets and stake and tie them together to form a bay. If you have the space, you could place two compost areas side by side, so the materials can occasionally be turned from one to the other.
Compost Ingredients
Almost anything of organic origin can be put through the composting process, but in urban areas, you have to be careful about attracting vermin. Stick to adding garden waste, paper and cardboard, and fruit and vegetable peelings. Woody material needs to be shredded or chipped before composting. You need an even mixture of 'green' and 'brown' material to make a good compost. 
'Green' materials are nitrogen-rich and could include: kitchen waste, weeds, grass cuttings, coffee grounds, leafy parts of plants.
'Brown' materials provide carbon and include: woody stems, twigs, straw, paper, cardboard.
Young annual weeds are fine to add as long as they have not gone to seed. But do not add perennial weeds, because they can survive in the heap and multiply once you put the compost back on the soil. Avoid any grains (bread, couscous and so on), meat and cooked food to avoid attracting vermin.
A 'recipe' for compost...
You'll need:
A container or compost bin
Green waste (including food waste)
Brown material
A corner of the garden/outside space
Time (4-6 months+)
Mix green waste with brown material in equal parts - shredded material works best – let it sit for 4-6 months turning occasionally. Use when crumbly and black.
Time
Compost can be ready in as little as six weeks, but it usually takes a little longer. Regular turning makes sure that all parts of the heap are evenly composted and that it doesn't get too hot during the process, which can kill off the essential aerobic bacteria. When the compost has transformed into a black and crumbly texture, it is ready to use as a mulch or soil additive.
If you plan to use the compost to make a growing substrate for your container plants, it is best to cover it with tarp and let it mature for three months or longer. This will ensure that all composting processes have stopped and there will be no adverse affect on plant growth or germination when it is used.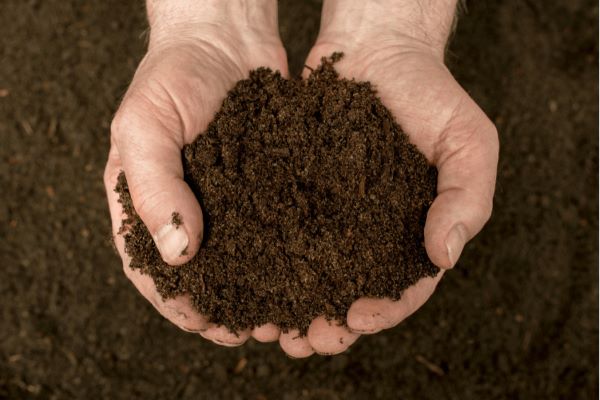 Compost troubleshooting guide

Urgh! My compost heap stinks!
Your compost may have gone anaerobic. Always mix green and brown material- especially when adding a lot of greens in one go, and never compress the compost to make more space. Use an aerator (long metal poles) to create air channels and turn the heap once every few months. Healthy, ready compost should not stink – this smell is given off by anaerobic bacteria which occurs when there isn't sufficient air in the mix.

My compost heap isn't doing anything...
Composting takes time and is naturally affected by the seasons. As the temperature drops in Winter, those busy microbes will slow down and depending on the size of your heap stop altogether. You could insulate your composter with cardboard, leftover bubble wrap, old carpet – just be sure to leave gaps for it to 'breathe'. If you're in a real hurry you could occasionally fill a large sealed container with warm water and place it in your compost just to get it going.

Help! My compost is full of worms!
Worms play a vital role in your compost and reproduce quickly when the temperature is right. So it's not uncommon to sometimes feel that the compost is being overrun by wiggly worms. They are perfectly adapted to eating rotting organic waste, so understandably they feel very much at home in a compost heap. In return, worms will aerate the compost with their constant tunnelling and enrich it with worm castings. Make sure your compost isn't too wet, and when it's very hot they will move to the edges or try to escape altogether.

Why are there mushrooms growing in my composter?
Fungi and bacteria are largely hidden to the naked eye. However you may notice white strands matting together which are healthy fungal networks. When the conditions are right, the fungal network (mycelium) produces a glorious mushroom 'fruit'. Mushrooms are a positive sign that fungi are present and well, playing a vital role in decomposing organic matter. It would be advisable not to eat these mushrooms – simply let them run their course and they can be incorporated back into the heap.
Join the community

Sign up to our newsletter today to receive more fun wildlife facts, practical tips on sustainable living, news, offers and information on other ways you can get involved. You can unsubscribe at any time.

Sign up to our e-newsletter
In this section...
Nature-friendly gardening guide
Download our nature-friendly gardening guide for more tips for growing alongside nature.
Download your free guide