Organic fashion & textiles
Why is organic important when it comes to what we wear?
We are in a climate emergency. As the world's second most polluting industry, textiles urgently needs to pull its socks up. Fast fashion is a big part of the problem, but as well as clothing, the fabrics we choose for our bedding, homewares and personal care products also matter.
Choosing organic clothes and textiles not only helps to combat climate change, but benefits people and nature too.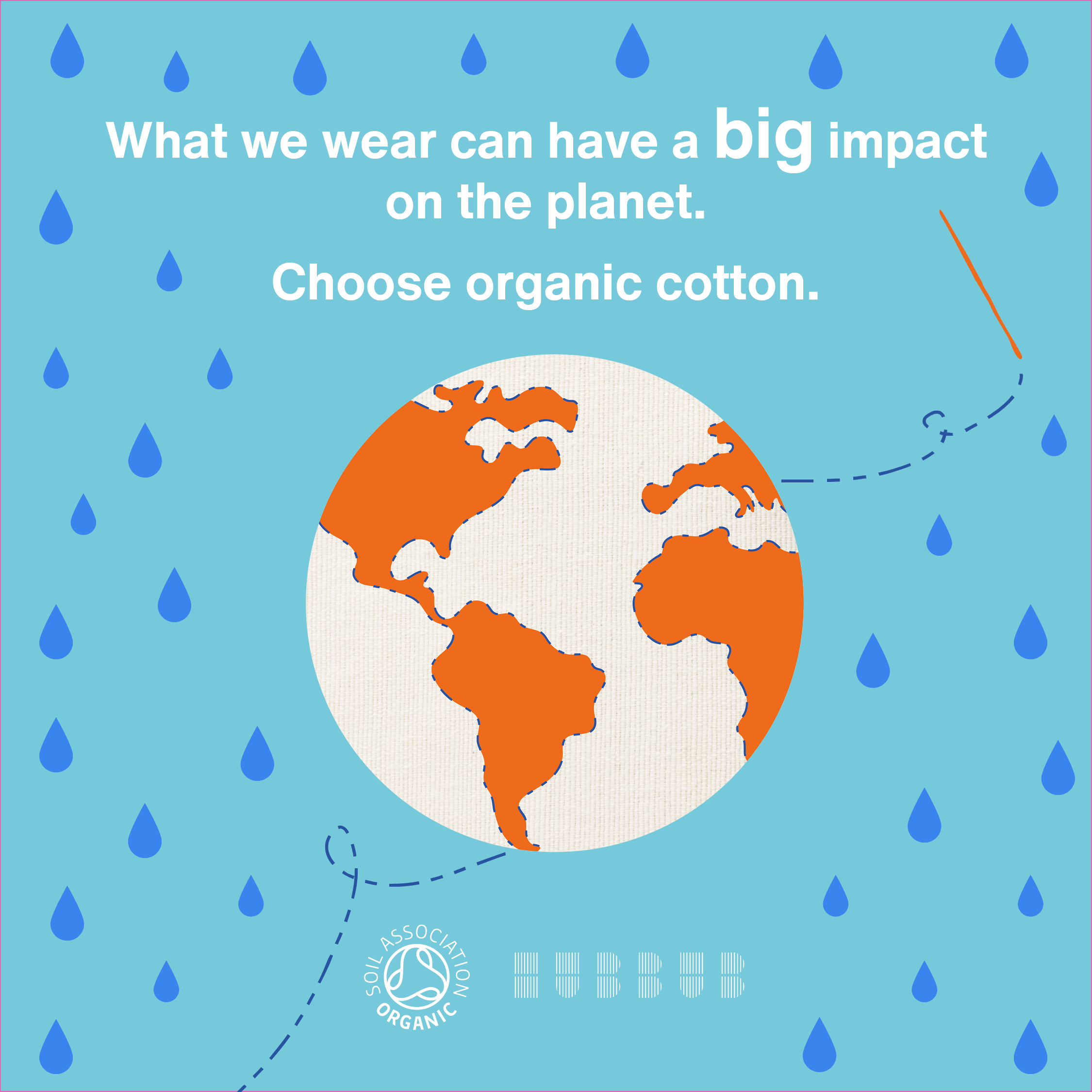 What are organic fashion and textiles?
If you see an organic label on an item of clothing in a store, the garment is likely to be made from cotton, but organic textiles can also be made of other materials too, such as hemp, flax (linen) and wool. These fibres come from crops or animals that are grown or raised on organic farms. The way they are farmed makes a big difference to their environmental impact.
Organic farming ensures animal welfare is protected. Organic farmers use natural methods to grow their crops, which build healthy soils and help combat climate change. They don't use hazardous synthetic pesticides, which means farmers aren't putting their health at risk to make our clothes. Genetically modified seeds are also banned, so farmers have control over the crops they grow.
Organic is a sustainable choice, but, confusingly, when you see the word 'sustainable' on a label this doesn't mean it's organic. To be sure what you are buying is truly organic, look for one of the organic certification logos.
What's the problem with fast fashion?
We're buying five times more than we did in the 1980s. The UN says that if the world's population continues to grow, by 2050 we would need the natural resources of three planets to support us.
The fashion industry is the second-biggest consumer of water, and is responsible for 8-10% of global carbon emissions - more than all international flights and maritime shipping combined.
On top of this, it's estimated that one third of clothes in UK wardrobes haven't been worn in the last year. One answer to fast fashion is to buy less, another is to choose sustainable, eco-friendly clothing, like organic. As more people choose organic, brands are cottoning on and starting to source more clothes which are responsibly made.
What is organic certification?
Lots of fashion and textile retailers think it is important that shoppers know how their clothes are made, but sadly many brands spin yarns that hide the truth about their production and working conditions.
Unlike food, clothes and textiles can be labelled as organic without being certified. This means that retailers can label items as organic, regardless of organic content. Organic certification is proof that the claims made are backed up.
Which organic logos should I look for?
When you're buying clothing or textiles, check the label and make sure what you're buying is genuinely as good as it looks. 

Soil Association or GOTS logo
The item is made with organic fibres and has been processed to strict environmental and social standards. This means workers' rights are protected, working conditions are safe and hygienic, only low impact dyes and inks are used, wastewater is treated properly, and energy and water use is monitored.

OCS logo
The item is made with organic fibres and has been traced through the supply chain.
Where can I find organic fashion and textiles?
If you want to make sure your next purchase doesn't cost the earth, look for an item labelled with one of the organic certification logos above. Take a look at the organic fashion and textiles brands we certify. 
Find Certified Brands

When it comes to organic fashion and textiles, look for the logo to be sure of the quality, integrity and transparency of the products you're buying.

Find an organic brand
You can also find other brands who sell organic on the Good On You website or App; it's the world's leading source for fashion brand ratings, giving brands an easy to understand score based on their ethical and sustainable credentials.
Sustainable Living Guide
Download your copy for tips on how you can reduce your carbon footprint and support a sustainable future.
Download your free guide
Related