Kate Hackworthy
Meet Kate Hackworthy
Kate is a freelance food writer, magazine columnist and award-winning blogger. She's unashamedly obsessed with vegetables and releasing her first cookbook, Veggie Desserts + Cakes, in August 2017.
Kate was also the winner of our Best Organic Blogger category at our 2017 BOOM Awards, for her Veggie Desserts blog.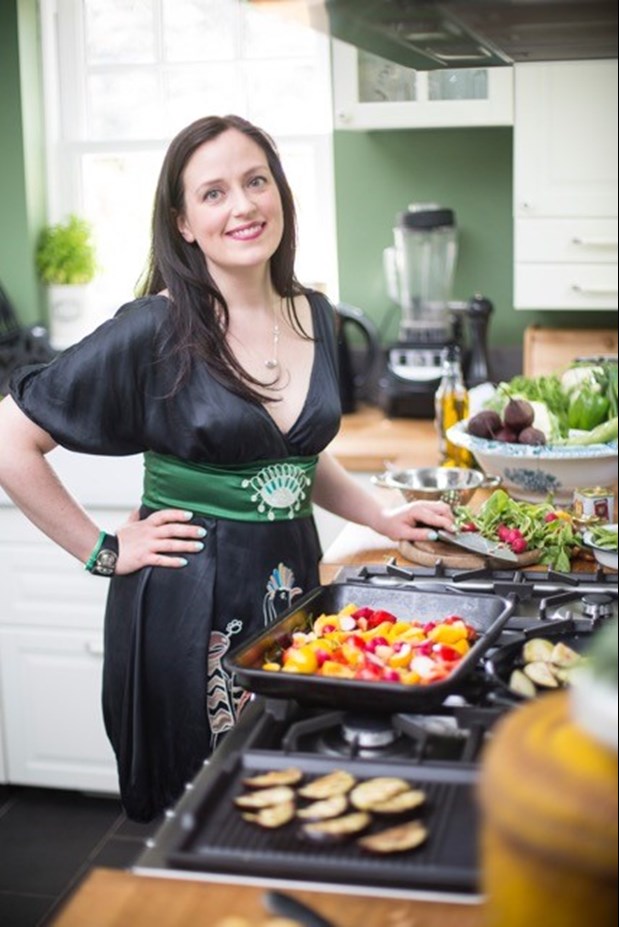 Tell us about yourself – who are you, what's your mission and how did you get started? 
I started blogging about desserts that contain vegetables shortly after being made redundant while I was on maternity leave. I felt lost and needed a creative outlet, so turned to blogging. I had been enjoying experimenting with vegetable cakes for a while, so used it as a niche to focus on.
My blog quickly began to gain international attention, press and awards. It's gone from strength to strength and I've made it my full-time job.
What is your biggest achievement to date?
My biggest achievement is my recently-released cookbook, Veggie Desserts and Cakes – which pushes the boundaries of carrot cake and puts vegetables into cakes, muffins, biscuits, pastries and more. It's not about sneaking vegetables into recipes, but celebrating them as hero ingredients and making them as much a part of dessert as they are of dinner. Between the book and winning best blogger at the prestigious BOOM awards, this has been an incredible year for me.
What do you think are the biggest issues facing our food systems?
Food waste is a scandalous issue that I'm passionate about. Huge amounts of edible food are wasted at all levels of the food system, but thankfully now companies and suppliers are bowing to public pressure and are beginning to slowly address the issue.
As consumers, we need to keep that pressure up, and reduce food waste at home by shopping smart and using up what we have. That includes using all edible parts of plants, from cauliflower leaves to carrot tops. Some people baulk at paying slightly more for organic produce, but will throw away uneaten fruit and veg. For me it's far better to buy organic, use all edible parts of plants and never let fruit and veg go to waste. 
"I'm proud to use my platform to support Organic September. It's a positive time to highlight and celebrate all the great reasons for choosing organic: from enjoying healthier vegetables to understanding the impact on ourselves and the planet. It's a month of conversations, ideas and support for organic."
Why is organic so important to you?
I'd rather not expose myself and my family to a cocktail of chemicals on our fresh fruit and veg, and I'd prefer that the produce we eat is more nutritious. I also want to make sure that we tread more softly on the planet.
Who inspires you?
I'm inspired by celebrity chefs like Jamie Oliver and Hugh Fearnley-Whittingstall who use their prominent voices to push for change in our food systems. I'm also impressed by Organix Foods for all of the incredible campaigns that they've carried out over the years, such as working to ban blue smarties and chemical colourings that were making kids hyperactive. They even kick-started the campaign for healthier school dinners that was taken up and ran with by Jamie Oliver. They're making a huge difference without fanfare.
I'm also inspired by companies like Olio (the food waste app), Rubies in the Rubble (who use turn food waste into chutneys) and my local Community Fridge where individuals and shops can leave surplus food for others to take, saving it from the bin. The Ethical Fruit Company is also doing amazing things by using waste fruit from organic farms.
Best advice you've ever been given?
I once read that "what's meant for you won't pass you by" and I've taken great comfort in those few words over the years.
Find out what organic really means

There are so many reasons to opt for organic food. Find out how our food choices can be good for nature, for the planet and for our health.

Get Involved