30-Minute Spinach & Potato Pancakes
These incredible savoury pancakes from Riverford take just 30 minutes to prepare.
Chickpea pancakes have many incarnations, including Italian socca and Indian dosa - they're naturally dairy and gluten free, and high in protein.
To cook the perfect pancake, you want your pan to be hot and lightly greased so the batter doesn't stick.
Tilt the pan slightly and allow the batter to spread over the surface. If you haven't added enough, quickly fill the gaps with more batter.
If you're particularly sensitive to heat, add a little curry paste, taste, then add more if desired.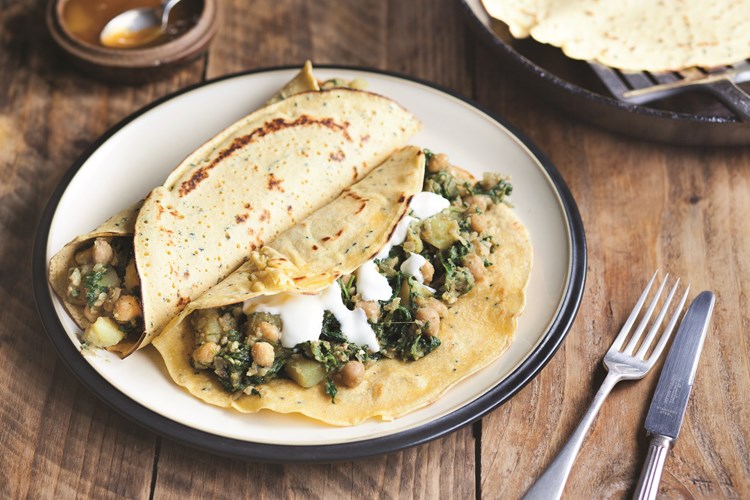 Ingredients: 
1 baking-sized potato
1 onion
1 garlic clove
300g spinach
1 tin chickpeas
1 ½ tbsp Madras curry paste
150g chickpea flour
1 tsp black onion seeds
oil for frying e.g. sunflower
1 lemon
2 tbsp mango chutney
120g yogurt
Method:
Put a saucepan of salted water on to boil. Peel the potato and cut into approx. 2cm cubes. Add the potato to the water. Return to a boil and cook for 5-6 mins, until just tender, then drain into a sieve.
Meanwhile, peel, halve and finely slice the onion. Peel and finely chop 1 garlic clove. Wash the spinach. Strip the leaves off the stalks. Roughly shred the leaves. Drain and roughly chop the chickpeas.
Heat 1 tbsp oil in the saucepan you cooked the potatoes in. Add the onion. Reduce to a low heat. Cook for approx. 3-4 mins, until softened but not coloured.
Add the potato, garlic, chickpeas, curry paste (see cook's note) and 2 tbsp water to the onion. Stir over a medium heat for approx. 2 mins, until fully coated in the curry paste. Simmer over a low heat while you cook the pancakes.
Sift the chickpea flour into a bowl. Add 220ml water and the black onion seeds. Whisk to combine, then season. Grease a frying pan with a little oil. Add a ladle of batter to the frying pan (see cook's note).
Cook the pancake for approx. 1-2 mins, until small bubbles begin to form on the surface. Carefully turn over and repeat on the other side, until golden brown. Continue this process until all the batter has been used - there is enough batter to get 4 pancakes.
Add the spinach to the potatoes. Stir for approx. 3-4 mins, until wilted. Add the spinach bit by bit if it doesn't all fit in one go.
Slice the lemon into wedges. Divide the pancakes between 2 plates. Fill with the spiced potato mixture. Serve with the chutney, yogurt, and lemon wedges.