Foraged Nettle Gnocchi with Garlic Pesto
Try this recipe for nettle gnocchi with wild garlic pesto from Daylesford Farm - just the thing to tuck into after a morning of foraging.
"Make the most of springtime's bright green shoots in this recipe, which combines heady wild garlic and tender nettle leaves. Finishing the fluffy gnocchi by pan-frying in a little butter gives a wonderful textural contrast to this simple, yet stunning dish."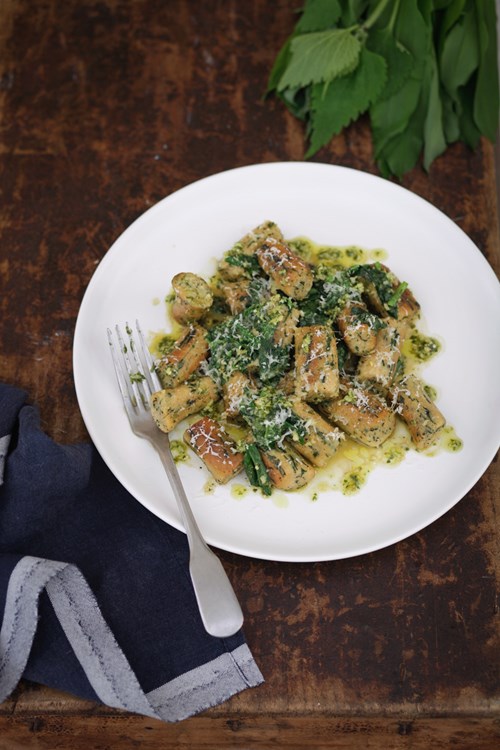 Ingredients
For the gnocchi:
550g King Edward potatoes (should yield 225g cooked flesh)
75g plain flour
45g semolina
Generous pinch of salt
Twist of black pepper
25g nettle leaves, finely chopped
3 egg yolks, beaten
For the pesto (makes extra - the remainder can be stored in a jar in the fridge for up to a week):
50g wild garlic leaves
10g parsley
30g parmesan, finely grated
40g pine nuts
100ml extra virgin olive oil
1 tbsp lemon juice
Pinch of salt
Generous twist of black pepper
15g butter
70ml stock
To serve:
Generous handful of finely grated parmesan
Method
Preheat the oven to 180°C.
Wash and thoroughly dry the potatoes and pierce each with a knife. Sprinkle a little rock salt over the centre of a baking tray and place the potatoes on top. Bake in the oven for about an hour until cooked through.
Meanwhile, make your pesto by combining all of your ingredients in a food processor and blitz until you get a coarse texture. Set aside.
Sift the flour into a bowl and stir through the semolina, salt, pepper and nettle leaves.
While the potatoes are still hot, peel off the skin and scoop out the flesh. Pass the flesh through a ricer into the bowl of flour - if you do not have a ricer, you can lightly mash the potatoes with a fork. The trick is not to over mash them though as the stickier the potatoes get, the heavier the gnocchi will be.
Add the eggs to the bowl and stir everything until it just comes together to form a thick dough. Try not to stir the mixture too much as this will result in a slightly chewy gnocchi.
Dust a clean work surface with flour and turn the dough out from the bowl. Roll out into a sausage shape around 2cm in diameter and cut into 5cm long strips with a sharp knife to form your gnocchi. Place the gnocchi onto a baking tray dusted with flour.
Bring a large pan of water to the boil with a generous pinch of salt, then turn down to a simmer before gently dropping in half of the gnocchi. Stir with a spoon and wait as they gently rise to the surface; as soon as they do, remove with a slotted spoon and place into a bowl. Repeat with the remaining gnocchi.  
Heat the butter in a shallow frying pan until bubbling. Add the gnocchi and fry. When they begin to turn a delicious golden brown, add the chicken stock and 1 tbsp of the pesto, and toss everything together. Divide between two plates and serve with a generous scattering of finely grated parmesan.
 Serves 2
At Daylesford, we've been farming organically for over 35 years. What began as a simple passion for real food, and a desire to feed our children better, has grown into Daylesford as we know it today, one of the most sustainable organic farms in the UK.
Each step of our journey is made with a conscience and a love for food.
Visit daylesford.com/recipes for seasonal inspiration. Find us on Facebook, Twitter and Instagram (@daylesfordfarm).