Roasted Plum & Oat Crumble
Baby & children's food brand, Organix have shared their crumble recipe to delight you and your little ones.
"Can be enjoyed warm or cold. For younger babies, blend the plum into a smooth puree or mash to suit and serve just with the mascarpone cream.  For toddlers you can roughly chop the plum into bigger pieces and serve with the crumble topping and mascarpone cream. Be safe!  Avoid the crumble for little ones under 7 months."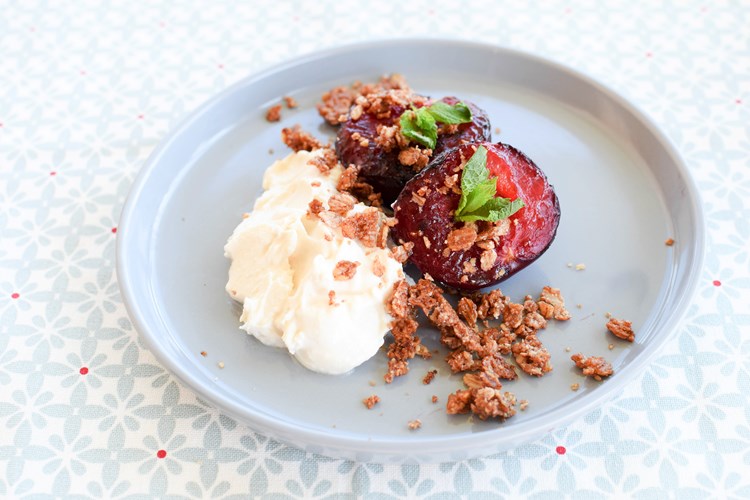 Ingredients – Serves 2 adults & 2 children
Roasted plums
3 large organic plums
Organic coconut oil (or melted butter) to brush
Almond & oat crumble
3 tbsp porridge oats (or gluten free oat)
1 tbsp ground almonds (or desiccated coconut if nut allergies)
½ tsp ground cinnamon
1 tbsp melted coconut oil (or butter)
2 tbsp maple syrup (or honey for children over 12 months)
Mascarpone cream
150g mascarpone
3 tsp lemon juice
3 tsp maple syrup (or honey for children over 12 months)
¼ tsp vanilla extract
A couple of mint leaves (optional)
Method
Preheat the oven to 200°C fan / 180°C / gas mark 6. Line a baking tray with parchment paper.
Prepare the crumble by mixing the oats, ground almonds and cinnamon powder together in a small bowl. Add melted coconut oil (or butter) and maple syrup. Stir until you get a crumble texture.
Spread the crumble on the baking tray. Bake for around 10-15 mins until golden and crisp. Remove from the oven and set aside to cool.
Put the grill on a high heat.
Cut plums in half and remove stones carefully.
Brush each plum all over with some melted coconut oil (or butter).
Arrange the plums in an oven proof dish, cut side up.
Place under the grill for around 5 mins or until they soften.
While the plums are in the oven, mix the mascarpone with lemon juice, maple syrup and vanilla extract in a small bowl.
To serve, dollop the mascarpone cream on a plate. For adults add 2 plum halves and for children 1/2 plum on top of the cream and sprinkle with the crumble. Garnish with mint leaves, if using.
Find out more about Organix and their foods here: organix.com