Mushroom and Spinach Spelteree
Creamy coconut milk and chunky grains of pearled spelt make this veg-packed dish rich and satisfying.
It makes a lovely main meal for three people – but serves four or more if you add a dish of dhal too.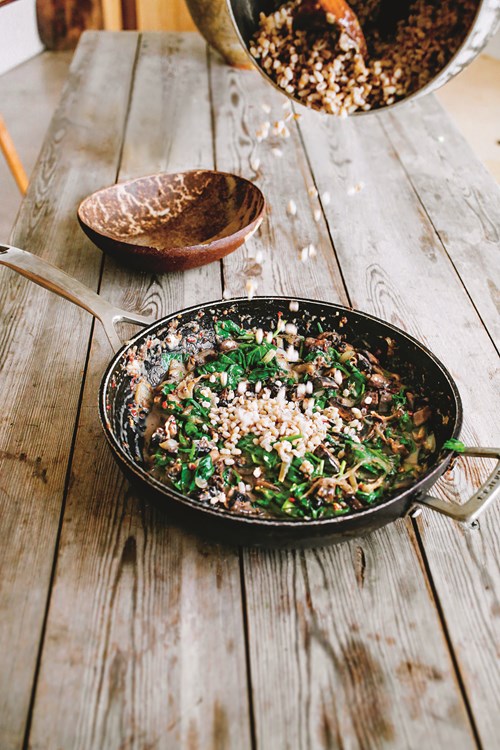 Ingredients:
125g pearled spelt or pearl barley
1 tbsp cumin seeds
1 tbsp coriander seeds
1 tsp fenugreek seeds (optional)
2 tbsp rapeseed oil
1 large onion, quartered and sliced
250g chestnut or open cap mushrooms, cut into bite-sized pieces
1 tbsp grated ginger
2 garlic cloves, finely grated or crushed
1 medium-hot red or green chilli, deseeded (for less heat, if preferred) and chopped
200ml coconut milk
150g spinach, any tough stalks removed
Finely grated zest of 1 lemon and the juice of ½ lemon
Sea salt and black pepper
Coriander leaves, to finish
Method:

Soak the pearled spelt or barley in cold water for 20–30 minutes, if you have time. Soaked or not, rinse the grain thoroughly in a sieve then tip into a saucepan. Cover with plenty of water (it will expand a lot) and add a pinch of salt. Bring to the boil, lower the heat and put the lid on. Simmer until tender: about 20 minutes for spelt, 40 minutes for barley. When the grain is tender, drain and return it to the pan to keep warm.
Meanwhile, use a pestle and mortar or spice grinder to pound or grind the cumin, coriander and fenugreek seeds, if using. It doesn't matter if the cumin and coriander stay quite coarse but the fenugreek should be broken down to a powder.
Heat the oil in a large frying pan over a medium heat. Add the onion with a pinch of salt and fry for about 10 minutes, until soft, letting it colour just a little, but not brown.
Add the mushroom pieces and fry with the onion for about 5 minutes until tender and lightly coloured. Keep stirring so that the liquid released by the mushrooms can evaporate.
Add the pounded spices and cook, stirring, for a minute or two. Add the grated ginger, garlic and chilli and stir briefly, then pour in the coconut milk. Stir well, making sure the coconut milk is fully amalgamated and mixing it with the veg. Scrape up any bits of caramelised veg or spice adhering to the base.
Bring the coconut milk to a simmer and let it bubble gently for a couple of minutes to reduce a little. Then add the spinach, a handful at a time, stirring it in as it wilts.
Take the pan off the heat and stir in the lemon zest and juice. Add the cooked spelt or barley to the pan and stir well. Taste and add more salt and pepper if needed, then spoon into warmed dishes, scatter with coriander, and serve.
Swaps
Spices - instead of the whole spices, use 2 tbsp good ready-made curry paste.
Leaves - replace the spinach with chard: separate the leaves from the stalks and cook the stalks (chopped) along with the onion before adding the shredded leaves at the end.
Recipe taken from Hugh Fearnley-Whittingstall's Much More Veg (Bloomsbury Publishing, £26). Photography by Simon Wheeler.