Roast Beetroot, Greens, Labneh and Cumin
Delicious as part of a mezze or served simply with a green salad, this recipe from renowned eco-chef Tom Hunt will have you eating with the seasons.
Tom says:
"Beetroots are plentiful and sweet at this time of year. I love eating them with cumin and yoghurt, so I created this recipe to combine those flavours in a salad. It is really easy to make your own labneh. Simply strain thick, full fat yoghurt in a piece of cheese cloth or in a tea towel. Tie a knot around the top of the cloth and tie it up to let the whey drain away. Leave overnight. In the morning you will be left with a soft curd type cheese."
Waste not: Put a bowl under the labneh as it strains and keep the whey as a drink or lassi. Add a spoon of the labneh back into the whey and stir. Its lovely with a little pinch of salt and cumin or if you prefer a pinch of sugar. If you're feeling really exotic, blend with a mango.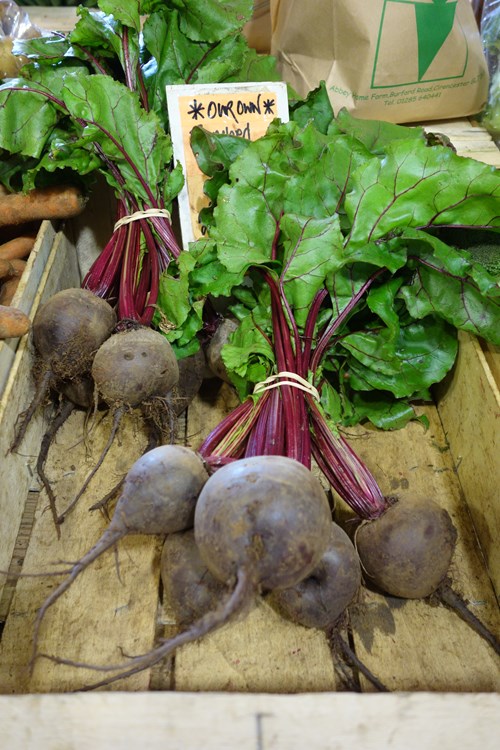 Ingredients
3 medium beetroots, peeled and cut into wedges
2 pak choi or any greens, trimmed and cut in two
1 clove garlic, peeled and sliced
1 tbsp sesame seeds, toasted
200g full fat yoghurt, strained the day before to make labneh
A pinch or two of cumin, toasted
Olive oil Lemon, zested and squeezed
Method
Pre-heat the oven to 200°C

First roast the beetroot in the oven. Toss the wedges in olive oil, salt and pepper, cover with foil and pop in the oven. After half an hour, remove the foil to allow them to take on a little colour. After another 20 minutes or so the beetroot should be soft. Allow to cool.

Sear the pak choi in a wok or frying pan for just a minute, then add the garlic, a squeeze of lemon and a little seasoning. Remove from the heat.

Season the labneh with a squeeze of lemon, a teaspoon of lemon zest, olive oil, salt, pepper and a little cumin. Adjusting to taste.

Combine the beetroot and pak choi, add the rest of the lemon zest and adjust the seasoning. Spoon onto a serving plate.

Place spoonfuls of labneh among the beetroot. To finish sprinkle sesame seeds and cumin over the top.