Green Lentil and Coconut Curry
"Autumn is really a sign that summer is winding up. This year will be especially difficult for many of us to deal with since we had a real, proper summer."
But let me tell you, nothing beats a warm, hearty, fragrant green lentil and coconut curry that has been meal prepped, freezes well and can be waiting for you to come home on a cold autumnal day. 
This curry is comforting, sweet and packed with flavour -  it's just great to have when the weather is miserable and you want something that makes you feel like all is well with the world, and whispers sweet nothings to your palate.
And best of all? Green lentils hardly cost anything to buy and are so nutritious! My kinda food. For more of Sahar's simple, delicious recipes, visit her website and social media.
This meal takes 35-40 minutes to make and will serve between 6-8 hungry mouths.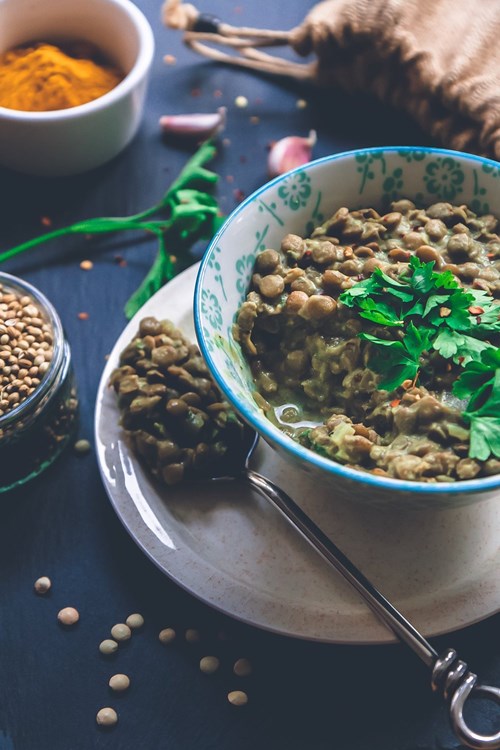 Ingredients
500g (2+⅓ cup) green lentils, rinsed
1750ml (7 cups) freshly boiled water
1 large yellow(brown) onion
3 garlic cloves
1 thumb sized piece of fresh ginger
½ tbsp ground turmeric
½ tbsp cumin
½ tbsp garam masala
1 tbsp ground coriander
1 tsp cayenne pepper* (optional - see notes)
1 tbsp tomato puree
1 tbsp coconut oil
400ml (1+⅔ cup) canned coconut milk
4-5 tbsp tamari* (see notes)
1 tbsp pure maple syrup
2 large handfuls of spinach, rinsed and chopped* (optional - see notes)
25g (small bunch) fresh coriander chopped, save a few leaves for garnishing* (see notes)
½ tsp chilli flakes* (optional)
Method
Add boiled water and lentils to saucepan and bring to the boil, then turn down the heat, add the turmeric and cover with a lid.
Leave to simmer for 20 mins.
Meanwhile chop the onion, ginger and garlic.
In a separate frying pan add the coconut oil and when hot, add the onions and ginger. Sauté for around 5 mins or until soft.
Next add the garlic, cumin, garam masala, ground coriander and cayenne pepper to the frying pan and allow to cook for half a minute or until the spices become aromatic, then add to the lentils.
Next, stir in the tomato puree and pour the coconut milk in with the onions, garlic, ginger and spices. Give it a good stir and allow it to simmer for 2-3 minutes to allow the coconut milk to take on the flavour of the spices.
Drain any remaining water from the lentils , then add the coconut milk to the lentils.
Add the spinach and turn down the heat and cover with a lid.
Leave to simmer for a few minutes for the flavours to absorb.
Finally, turn off the heat, add the chopped coriander and stir. Add salt and pepper to taste. 
Garnish with coriander leaves and chilli flakes.
Tip: You may want to chop the spinach and coriander finely if you have fussy little eaters.