20 Minute Pear & Blue Cheese Pizza
Topped with balsamic onions, sweet pears and creamy blue cheese, this sweet n' savoury dish from Abel & Cole is a quick and easy way to prepare a delicious meal with little time, taking just 20 minutes.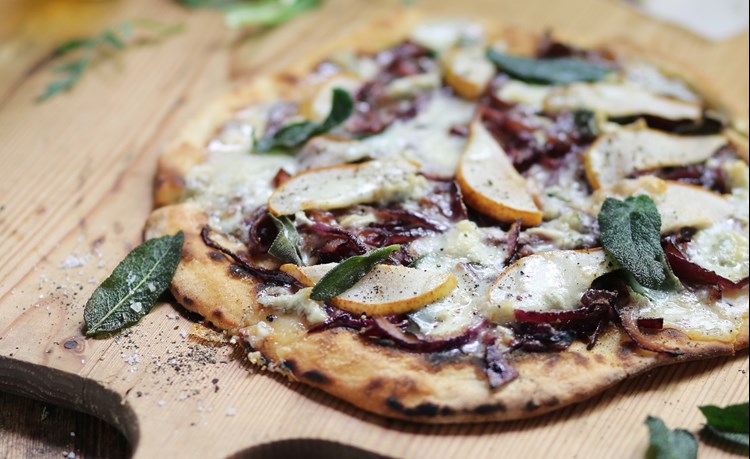 Ingredients
150g plain flour
1 tsp baking powder
75g yogurt
2 red onions
1 tbsp balsamic vinegar
1 pear
200g Stilton
A handful of sage
50g peppery salad leaves
Sea salt
1 ½ tbsp + 2 tsp olive oil
2 tbsp water
Freshly ground pepper
Method
Tip the flour into a large bowl, reserving 1 tbsp for later. Sprinkle in the baking powder with a pinch of salt and stir. Pour in half the pot of yogurt and 1 tbsp olive oil. Add 2 tbsp cold water and stir together. Add a little more water if the dough is too dry. Knead for 5 mins till you have a smooth dough. Cover and leave to rest.
Peel and thinly slice the onions. Heat a large frying pan. When warm, pour in ½ tbsp olive oil. Add the onions with a pinch of salt. Cook on a medium heat for 10 mins till softened, stirring occasionally. Pour in the balsamic vinegar and bubble up. Tip the onions into a bowl. Wipe the pan clean.
While the onions are cooking, cut the pear into quarters and slice out the core. Thinly slice it. Crumble the Stilton. Finely shred the sage leaves.
Preheat your grill to a medium-high setting. Line a baking tray with foil.
Divide the dough in half. Roll each half into dinner plate sized rounds, dusting the surface with the flour you saved in step 1 to make it easier.
Heat the frying pan you cooked the onions in. Brush each side of a pizza base with ½ tsp olive oil. Place one circle in the pan. Cook on a medium-high heat for 2 mins. It should puff and bubble up. Flip over and cook on the other side for 2 mins. Place it on to the foil-lined tray. Repeat with the other pizza base.
Scatter the balsamic onions over the bases and sprinkle over the sage. Arrange the stilton and pears on top.
Slide the pizzas under the grill for 2-4 mins till the cheese has melted and the pears are beginning to caramelise and brown. Serve with the salad leaves on the side.