Radio Alice Simple Sourdough Pizza
A classic Italian recipe f
or organic sourdough complete with Mother Yeast
, the key ingredient to
 perfect

 
sourdough pizza.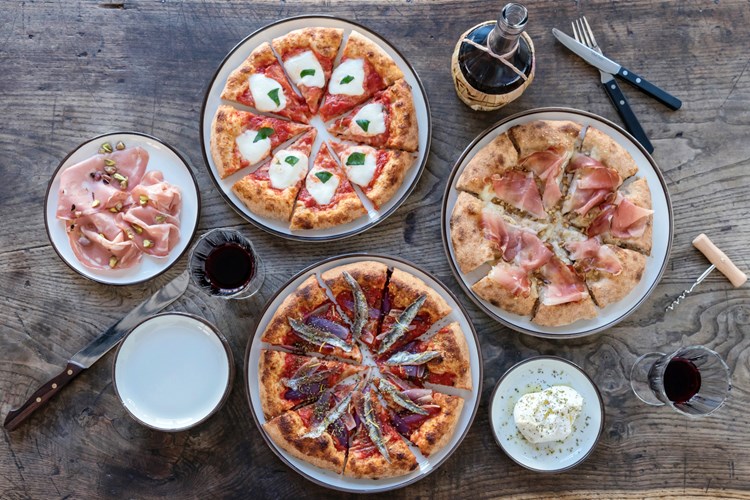 Ingredients
200g organic durum wheat semolina
200g type 1 flour
80g refreshed mother yeast (see below)
250g water room temperature 
2g liquid barley malt
10g salt
Method
Mix the flours, make a hole and add mother yeast, water and barley malt. Knead it with energy or using a mixer until it looks smooth (about 10mins). One minute before you finish kneading, add the salt. Make a big ball, put a thin coat of olive oil in a bowl and put in the dough ball making a cross on the top. 
Cover the bowl with clingfilm and keep it at room temperature until it doubles in volume (it will take about 5-6 hours). 

A couple of hours before cooking, transfer the dough to an oiled baking tin: the top of the dough in the bowl has to reach the top of the tin. Use your fingers to enlarge the dough and be gentle.
Cover the baking tin with film and leave the dough to rest for 2 hours.
Meanwhile preheat the oven to the highest temperature possible.  

These ingredients are for a round baking tin of 34cm diameter, or 30cmx40cm.  
How to create mother yeast at home 
In a clean jar mix flour and water 1:1, cover with a cloth and leave it at room temperature for 3 days. You'll see something changing and some bubbles. Then repeat it 3-4 times. After that you've created your starter. Make sure everything (hands, jars, clothes, spoons, etc.) is super clean so you don't insert a different bacteria that could kill the bacteria you need.
How to keep mother yeast alive at home
Refresh the mother yeast regularly every 4 days - feed it with fresh flour (food) and water (drink). The proportion 1:1:1. One flour (eg. 200g), one water (200g), one existing mother (200g). Mix all quickly then take one part (500g) and keep in the fridge for next time (Mother) and one smaller part (100g) keep it a room temperature for 4 hours (for pizza).
Why Mother Yeast? 
Natural fermentation (no chemicals)
Pizza is easier to digest (bacteria has already done it for us)
Pleasant aroma (sour taste)