Rhubarb compote with granola
This is a delicious and healthy breakfast. If you're in a rush the ingredients are great blended into a smoothie with a little orange juice.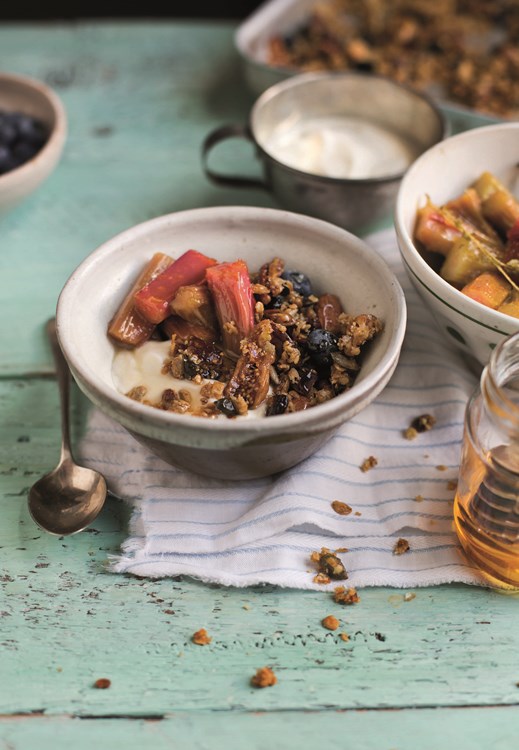 Ingredients
For the rhubarb compote (makes 4 servings)
200ml orange juice (about 3 oranges)
300g of rapadura or raw cane sugar
1 piece of cinnamon bark
300g rhubarb
For the granola (makes 10 portions):
200g whole oats
100g seeds such as sunflower, sesame, and pumpkin
100g nuts such as walnuts, almonds and hazelnuts (soaked overnight if possible)
50g dates, roughly chopped
50g dried figs, roughly chopped
2 teaspoon vanilla extract
50g goji berries or raisins
6 tablespoons of raw honey or maple syrup
3 tablespoons of sunflower oil
Method
For the rhubarb: 
Bring the orange juice and sugar to the boil. Add a pinch of cinnamon and peel off a piece of orange peel and add that too. Cut rhubarb into inch long pieces. Drop the rhubarb into the poaching liquor and simmer for 5 minutes.
Check to see if it's cooked by lifting a piece out of the liquid and checking if it is soft by pressing it with your finger. If its still hard, cook for another minute or so.
Remove all the rhubarb when cooked with a slotted spoon and leave to cool.
For the granola:
Preheat the oven to 180C
Put all the granola ingredients into a bowl and massage the honey and oil into them.
Scatter evenly over a baking tray and put into the oven for 20-25 minutes. When the granola starts to colour a little and firm up it is ready. Allow to cool.
Fill a breakfast bowl with a few spoons of nice thick yogurt and a couple of spoons of the poached rhubarb. Scatter with blueberries and a good helping of granola. Drizzle with honey.
Storage: The granola will keep in a jar once cooled for months. The poached rhubarb will keep for 4 days in the fridge.