Vegan Roasted & Sundried Tomato Risotto
Risottos are surely one of the jewels in the crown of Italian cooking - rich, luxurious and packed with flavour, they're perfect for cooking to impress, or simply as something special and comforting to prepare
for yourself or your family. 

This moreish vegan recipe comes from Italian gurus, Mr Organic, whose founders descend from three generations of Italian tomato producers - who better to supply the secrets to a near-perfect risotto!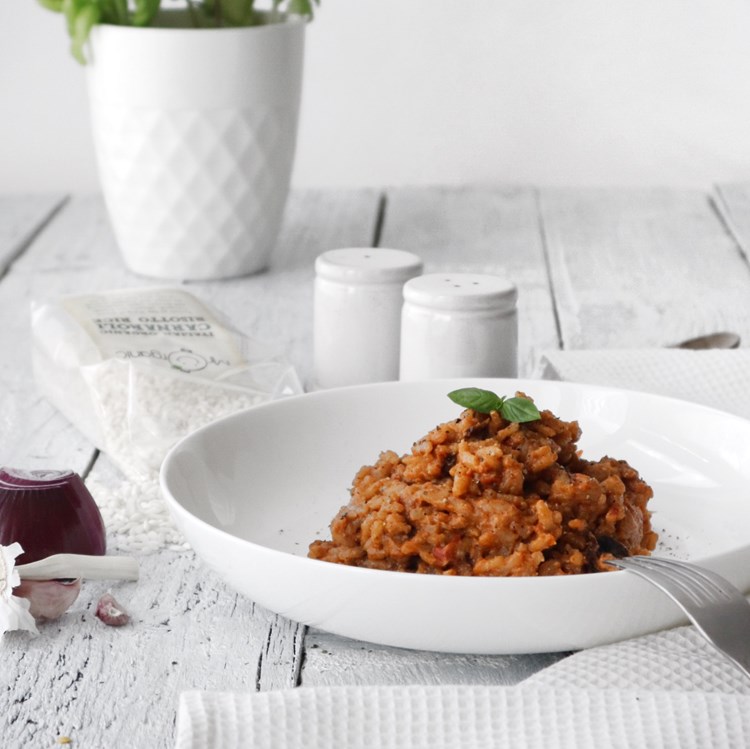 Ingredients
200g fresh tomatoes, chopped
1 tbsp Mr Organic extra virgin olive oil
1 clove of garlic, chopped
1 handful basil leaves
2 tbsp Mr Organic sundried tomato pesto
Salt & Black Pepper
100 g Mr Organic sundried tomatoes, roughly chopped
1 tbsp vegan butter
1 Red onion, finely chopped
225g Mr Organic carnaroli risotto rice
275 ml dry white wine
1 tbsp nutritional yeast
1 tbsp cashew nuts, soaked
1/2 - 1 litre water
Method
Turn your oven for 200 celsius. Roast tomatoes for 20 mins with a little salt & pepper, oil, and garlic. Once it is roasted add basil, then blend in a blender.
Add vegan butter to a pan, add red onion until translucent. Add sun-dried tomatoes for 2 minutes, then add the rice & pesto & roasted tomato mix, stir well.
Slowly add a little white wine and stir well, when the rice has soaked up the liquid keep adding the wine little by little.
Place the soaked cashews in a blender alongside the water and nutritional yeast, blend until smooth. Add to the pan & stir well.
Cook until the texture is smooth and creamy and the rice has soaked up the liquid. If the mix gets too dry, add more water little by little.