Thomasina Miers' Edible Soil
In keeping with her role as Soil Association BOOMbassador for the 2019 BOOM Awards, Thomasina Miers serves us up a soily salad recipe! 
This earthy salad base is best served with a beautiful selection of vegetables: colourful radishes and baby carrots, sticks of fennel and cherry tomatoes.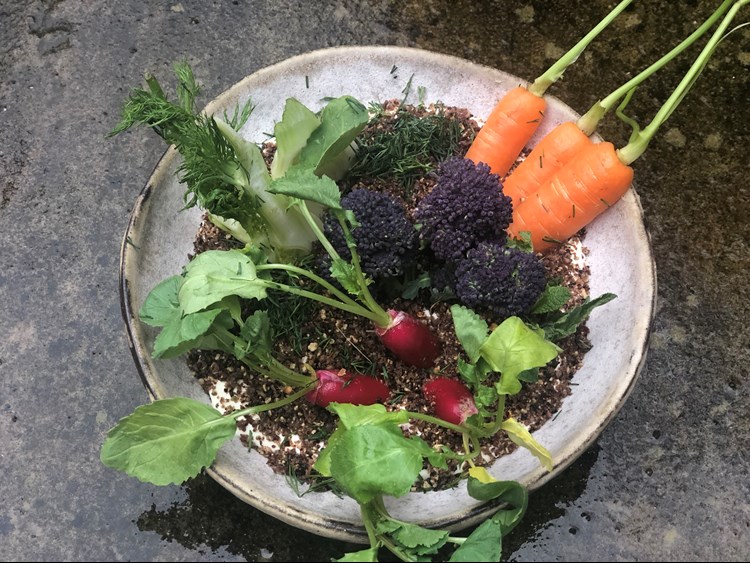 Ingredients
For the soil
200g black olives
200g sourdough, dried and ground
100g pumpkin seeds
2 tsp cumin seeds
1 tsp of chilli flakes
For the cream
300g cows milk curd
150g crème fraiche
4 tbsp extra virgin olive oil
1 small clove of garlic, crushed
The zest and juice of half a lemon
A small handful each of finely chopped parsley, dill and mint
Method
Dry the black olives on a tray in the oven at 100 degrees C for about 4 hours.  If the bread is fresh, dry it out in the same oven for about half an hour.  Toast the pumpkin seeds in the oven for 25-30 minutes until golden.
Meanwhile toast the spices in a dry pan.  Place them in a blender with the olives, bread and pumpkin seeds until they are the texture of, well, soil!
Tip the soil onto a tray and rub together to feel if it is dry enough.  If not, place in the oven again at 100 degrees C for half an hour or until dry.
Meanwhile beat together the curd, crème fraiche, olive oil, garlic and lemon.  Taste and season with a little salt and pepper (the soil is already salty).  Trim the bottoms of the radishes and peel the carrots, leaving on the leafy tops.  Spoon the cream out in shallow bowls or pretend planters. 
Lay a thin layer of soil on top, and if you like, patches of 'grass' from the chopped mixed herbs.  Insert the vegetables and put out separate cups with other vegetables inside for dipping.  Serve at once!